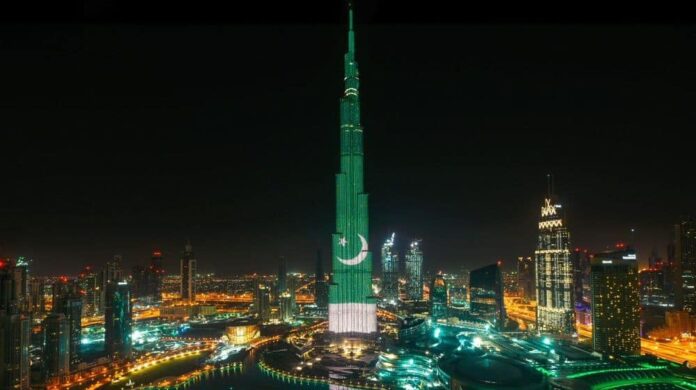 The iconic Burj Khalifa in Dubai recently became a focal point of attention when a video surfaced showing a group of Pakistani nationals protesting the absence of Pakistan's national flag colors on the building during its Independence Day. However, the disappointment turned to delight as the world's tallest structure eventually illuminated itself in Pakistan's green and white hues.
#BurjKhalifa displaying Pakistan's Flag at the 76th Independence Day of Islamic Republic of #Pakistan ????????

Pakistan Zindabad ????????
Pakistan Paiandabad pic.twitter.com/on3Ad59Vvd

— Pakistan Strategic Forum (@ForumStrategic) August 14, 2023
Burj Khalifa Shines in Pakistani Colors
Initially met with disappointment, the Burj Khalifa's delayed display of the Pakistan flag's colors became a symbol of unity and shared celebration. The building, which usually lights up in the vibrant green and white of the Pakistani flag as part of Pakistan's Independence Day festivities, ultimately paid homage to the occasion. The iconic building's transformation into a canvas of green and white celebrated Pakistan's heritage and achievements, evoking a sense of collective joy and pride.
"Wishing the people of Pakistan a day full of pride, unity, and prosperity celebrating their nation's heritage and great achievements. We hope the future will hold more success and happiness for Pakistan, the country, and people. Happy Independence Day!" the Burj Khalifa's official Instagram page said in a post.
Emotions Run High
The delay in illuminating the Burj Khalifa in Pakistan's colors was met with anticipation and emotion from both expatriates and citizens. The gathering around the iconic structure, filled with eager expectations, quickly turned into a chant of "Pakistan Zindabad" as individuals expressed their collective pride.
#BeggarPakistan git pranked #Dubai #BurjKhalifa refused to light Pakistan flag on #14August.#14AugustBlackDay.@hyrbyair_marri @FreeBaluchMovt @BaluchWarna @BobLancia @Bharat24Liv @ani_digital @RDXThinksThat @spvaid @Gen_RajShukla @Genbakshi_in pic.twitter.com/TJNvHfL17H

— Mir Yar Baloch (@miryar_baloch) August 14, 2023
Social media platforms like Twitter and Instagram became platforms for voicing frustration over the initial omission. Users highlighted the importance of the symbolic gesture as a representation of solidarity and a source of pride for the Pakistani diaspora.
Also read: Pakistani Delivery Rider Wins Heart of Dubai Crown Prince; Gets Call of a Lifetime