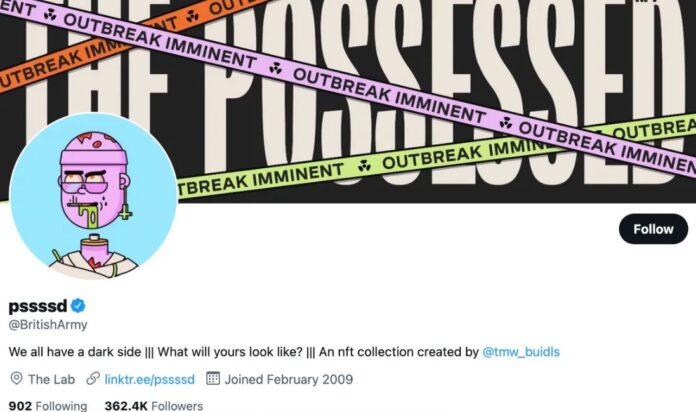 The British Army encountered a security breach of its Twitter and YouTube accounts, as confirmed by the Army on Sunday. An investigation is now underway. The British army's Twitter and YouTube accounts were taken over by crypto scammers on Sunday. The Twitter account's name was altered to "pssssd," and its profile and banner pictures were changed to resemble a nonfungible token collection called "The Possessed." 
? Posse, there is a new verified SCAM account. Please report and go careful? pic.twitter.com/F83o045Ar5

— pssssd (@ThePossessedNFT) July 2, 2022
Possessed's Twitter Account Alerted Users of a New Verified SCAM Account
The Possessed's official Twitter account alerted users of a "new verified SCAM account" copying the collection of NFTs — tokens representing ownership of pieces of online content. Since, the account has been restored, with all such retweets deleted. The Army account tweeted an apology, saying they will "learn from this incident".
Apologies for the temporary interruption to our feed. We will conduct a full investigation and learn from this incident. Thanks for following us and normal service will now resume.

— British Army ?? (@BritishArmy) July 3, 2022
Meanwhile, the Army YouTube account was replaced with the account name Ark Invest, known to be a global investment firm. There is, however, no indication that said the company was behind the breach. On the YouTube account, crypto scammers shared video interviews of Elon Musk talking about crypto, along with clips of old live streams by former Twitter CEO Jack Dorsey. 
British Army's YouTube Account is Terminated After Crypto Scammers Hacked It
These conversations took place last June, at a conference held by Ark Invest. Thousands of viewers reportedly watched the livestreams aired by the crypto scammers. The videos included an overlay that, according to blogger Molly White, directed users to Bitcoin and Ethereum scams. PSSSSD Labs, Bapesclan, and Ark Invest have not publicly commented on the scam. The YouTube channel had been restored, however, the account has been "terminated for violating YouTube's Community Guidelines."
Moreover, a Twitter spokesperson confirmed that the account "was compromised and has since been locked and secured. The account holders have now regained access and the account is back up and running."
Read more: Police Arrests Three Youngsters for Killing a Professor for Crypto Purchasing