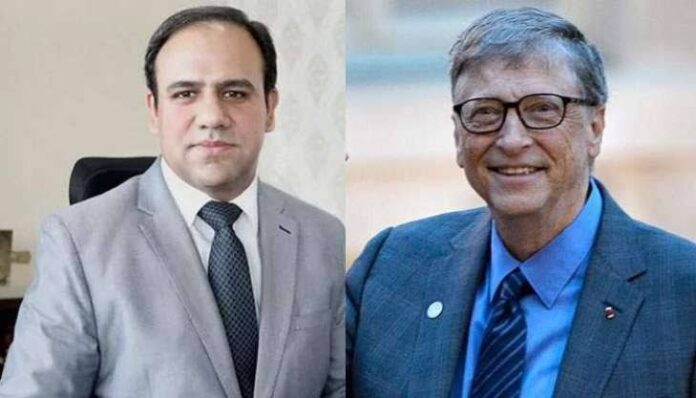 Microsoft co-founder Bill Gates has acknowledged Pakistan's use of an innovative immunisation system, crediting it as an example for the rest of the world. Gates said that the results achieved by the PITB chairman were unprecedented in the world.
Read more: Bill Gates Meets Prime Minister Imran Khan During His First Visit to Pakistan
Bill Gate encouraging remarks on innovative  immunisation system
Punjab Information Technology Board (PITB) Chairman Dr Umar Saif was invited by the Bill and Malinda Gates Foundation to Seattle as part of its Global Good meeting. As per the official statement, five people from all over the world were invited to the meeting as examples of how innovative technology and data had been used to advance global development goals, especially coverage of child immunisation and public health.
Dr Umar Saif presented how an innovative immunisation system developed by his team changed immunisation coverage in Punjab from 18% to 88% in less than two years. The expert also presented his work on using a smartphone-based system that helped eradicate Dengue in Punjab. Talking to a media briefing, Dr Umer said that the comments and recognition by Bill Gates of his work as a global success is very encouraging.
Bill Gates views regarding polio eradication
Recently, Bill Gates meet Prime Minister Imran Khan to discuss the country's progress in the effort to stop poliovirus transmission. He said; "Pakistan's commitment to ending polio is inspiring. Government leaders, health workers, and parents are working tirelessly to ensure this disease never paralyzes a child again. This is the final, and hardest, phase of the eradication effort, but by keeping up the momentum and staying vigilant, Pakistan has an opportunity to make history by ending polio for good."
PM Imran Khan mentioned; "We are working at all levels to ensure that every child is protected with the polio vaccine and are grateful for the continued partnership and support from the Bill & Melinda Gates Foundation and our other polio partners. We have a clear plan to stop this virus, and I am committed to seeing it implemented in full so that Pakistan can help secure a polio-free world."
Source: Express Tribune