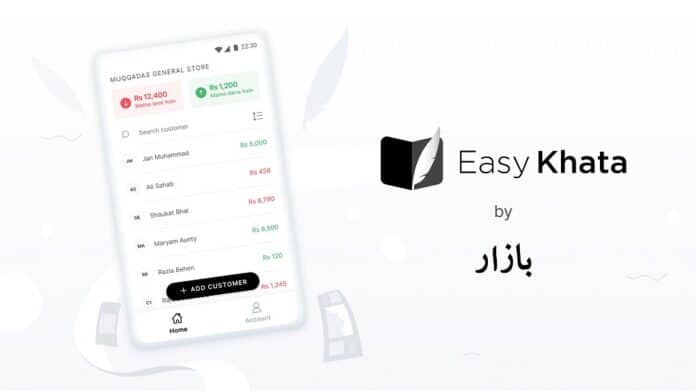 Pakistani B2B e-commerce marketplace Bazaar has rolled out Easy Khata, a new mobile app that assists retailers to manage their ledger and accounting. The application that was officially introduced just a month ago has already incorporated over 100,000 active retailers from 400 cities and towns of Pakistan. Within days of its launch, Easy Khata became popular, consistently trending on top of Google Play, according to the startup's co-founder Hamza Jawaid.
Moreover, Bazaar's main product is the e-commerce app that allows grocery traders to purchase inventory for their stores. The startup was inaugurated less than a year ago and has already managed to raise about $8 million to date, including $6.5 million in what was Pakistan's largest seed round of the period earlier this year. The company has stated that they are working with some of the largest FMCG corporations in Pakistan and have served thousands of retailers in Karachi.
Read more: Swvl's co-founder Ahmed Sabbah launches Telda, a Paypal-like app for Gen Z in Egypt
Upon asking why the company decided to introduce a digital ledger app, Bazaar's co-founder Saad Jangda replied that the move is part of the company's purpose to become the Operating System for Retail in Pakistan, "Traditional retail in Pakistan still has not seen technology play a major role in the value chain. However, with the launch of Bazaar, we saw astonishing digital adoption of our commerce app, which reinforced our belief to introduce even more digital products including accounting, payments, lending, and commerce as part of one digital stack".
Read more: Karachi-based trucking marketplace 'Truck It In' raises $1.5 million in Pre-Seed funding round
Bazaar chose an entirely different route to get here. Initially, the company launched the e-commerce marketplace and then analyzing the feedback of its traders chose to launch the digital ledger app, as well. The move makes them the single player in the scope to offer both these services to retailers. Easy Khata, according to the startup is one of the many products they intend to launch for the merchants in the country, they believe that speed has constantly been their major strength, they aim to serve this huge market area. 
Source: MenaBytes