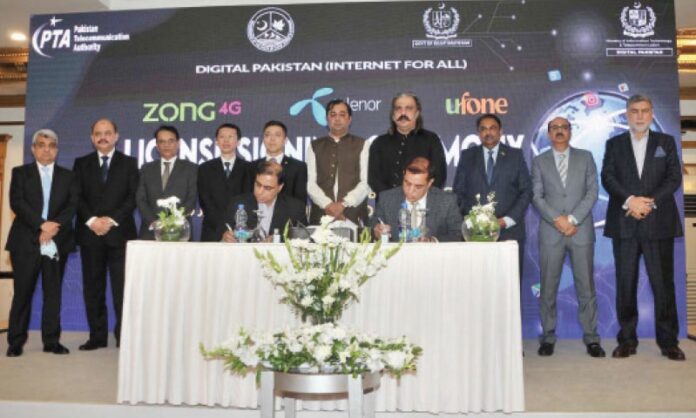 In recent news, the Pakistan Telecommunication Authority (PTA) in compliance with Zong, Telenor Pakistan, and Ufone awarded additional spectrum for Gilgit-Baltistan and Azad Jammu, and Kashmir (AJK), which will allow the locals to access 4G internet services. 
All Three Telecom Operators Are Successful Bidders in the Auction
Moreover, all three telecommunication operators are successful bidders in the first-ever auction of additional spectrum for GB and AJK. Spokespeople of all three mobile corporations have asked the PTA and the Ministry of Information and Technology to guarantee that the needed backend conveniences are given in the region for speedy and stable 4G internet service.
Lack of Political Will Had Delayed the Launch of 3G and 4G Internet Services
Moreover, addressing the ceremony, Khalid Khursheed, the GB chief minister, stated that the lack of federal will had delayed the inauguration of 3G and 4G internet services in the region even though these services were rolled in the rest of Pakistan in 2014.
"We heard everywhere that the Special Communications Organisation (SCO) was resisting the launch of 3G and 4G internet services in GB and the AJK. When we asked them about it, the answer was in the negative, and we were told that the PTA was not interested but that too was incorrect," Mr. Khursheed spoke and praised the efforts of Prime Minister Imran Khan and IT Minister Syed Aminul Haq for launching the auction of spectrum for the region.
Read more: USF Awards Rs1.36 Billion Contract to Telenor for Providing 4G services in Chaghi and Nushki
"Not only visiting tourists and the business community will benefit from the launch of 3G/4G services in GB and AJK but the people will be able to avail e-education, e-health, e-learning, e-commerce, etc., which will eventually uplift the overall economic and social standards," the CM further continued.
The regulations of GB and AJK will further receive a total of up to Rs7 billion in the titles of royalty from the auction proceeds for 4G internet services that will be distributed between the two regions at the ratio of 40:60, respectively, as per their population.
Source: TechJuice