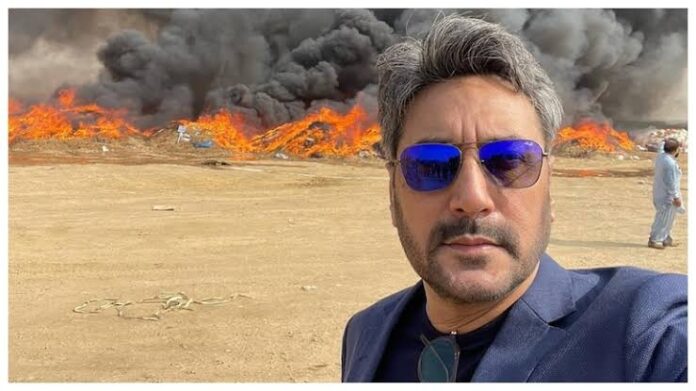 Pakistani actor Adnan Siddiqui shared a video of a destruction ceremony of confiscated goods organised by the Narcotics and Customs (Enforcement) in Karachi. It was Adnan Siddiqui's selfie against the backdrop of drugs being set on fire that activated the memesters, so much so that it became the first meme of 2022.
Read more: Tayaba Organization Becomes the First Pakistani NGO to Raise Millions Using Crypto in an NFT Fundraiser
Adnan Siddiqui's selfie recreations got the actor in stitches
Many people had compared Adnan Siddiqui's selfie to the hugely popular meme titled Disaster Girl, which shows a four-year-old girl smirking devilishly with a house engulfed in flames behind her. The meme was put up for NFT auction in May 2021 and fetched a whopping $500,000. Adnan shared that he vaguely remembered Disaster Girl while taking his selfie but he didn't want to relate the two as he was for a greater cause.
View this post on Instagram
During a TV interview, the veteran talked about his selfie that turned into the first meme of 2022. He said that the response is crazy and your time will end but the memes won't stop flooding. The actor added; "I was a guest at the event where the department destroys smuggled and other goods confiscated by it through the year. These include liquor, cigarettes, betel nuts contraband; the cost of what was destroyed today is a whopping $2.5 million."
The best collection from the first meme of 2022
Here are some of the best recreations of 'selfie on fire' that stemmed from Adnan Siddiqui's selfie:
Made another meme ? pic.twitter.com/FJJ0AGo7cA

— Maleeeks (@itsMaleeeks) January 2, 2022
— Jasir Shahbaz (@LahoreMarquez) January 2, 2022
Phupho after initiating a phadda pic.twitter.com/aaDTRrBkMy

— h (@chillkarooo) January 2, 2022
This Dec/Jan Shaadi szn has me like pic.twitter.com/DCihKGswzN

— Halaku Khan ?? (@HalakuKhan_) January 3, 2022
Source: DAWN