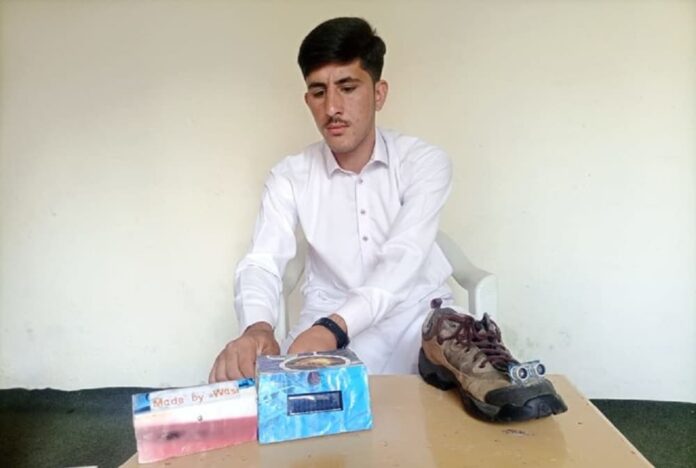 A teenager from Swat, Khyber Pakhtunkhwa has created smart shoes that employ vibration and sound to inform visually impaired people of any hurdles within a radius of 1.2 meters. The 17-year old teenager from Swat, Wasiullah has developed "smart shoes," which if capitalized at the national level can change the lives of visually impaired people.
Smart Shoes Will Emit Sound and Vibration Signals to Alert the Visually Impaired People

Talking in this regard, Wasiullah revealed that his enthusiasm for innovation began at a young age when he used to repair and fix damaged battery-operated toys. Speaking about his invention, the teenager stated that the smart shoes feature an ultrasonic sensor and Arduino microcontroller. Smart Shoes are programmed in a way that they will emit sound and vibration signals to the visually impaired people about obstacles.
The Cost of a Single Pair of Smart Shoes is Around PKR 4500
He further added that the visually impaired people will no longer require sticks or guides while walking once "smart shoes" go into mass production. Wasiullah also stated that a pair of Smart Shoes cost about Rs. 4,500. Though, he would not be able to finance their mass production because he is also bearing his college expenses by himself.
Furthermore, his physics teacher, Mohammad Farooq, revealed that Wasiullah is the most talented student in the college. He also said that he also aims to develop a wheelchair to help visually impaired people navigate their surroundings easily. However, financial constraints restricted Wasiullah from doing so.
Read more: Pakistani Scientist Receives Top Muslim World Science Award
Moreover, Wasiullah informed that similar shoes are available in a number of countries but their costs are beyond the grasp of many visually impaired Pakistani citizens, asking the government to support Wasiullah because his Smart Shoes are more affordable. Farooq declared that Wasiullah has got what it takes to be a top scientist. He only requires proper supervision, coaching, and a chance to make the nation proud on the international stage.
DGST Experts Will Review the Shoes for Commercial Purposes
Meanwhile, Director General (DG) at the Directorate General of Science and Technology (DGST) KP, Sajid Shah, has declared to extend needed support to Wasiullah to seek higher education and begin mass production of "smart shoes." Sajid Shah has also invited Wasiullah to DGST headquarters in Peshawar where DGST experts will check the shoes before pushing them for commercial ends.
Source: Pro Pakistani