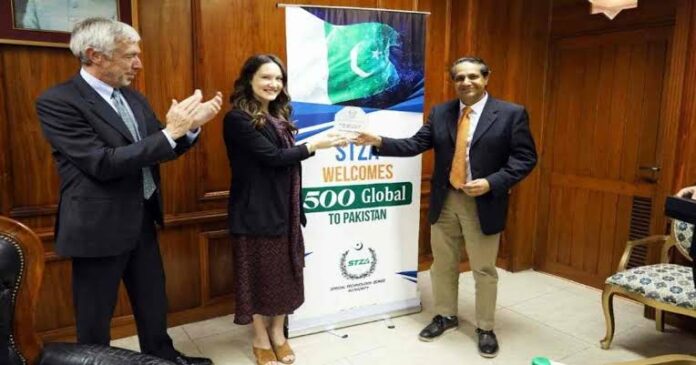 500 Global, an international venture capital firm, visited the Special Technology Zones Authority (STZA) and met with the STZA chairman, Amer Hashmi and his team. 500 Global offers support to the tech startups of Pakistan by providing funds, support and mentorship to the burgeoning tech start-ups. The STZA chairman said; "We welcome 500 Global to Pakistan and look forward to working closely with them to support the startup and technology sector in Pakistan."
Read more: Pakistani Startups Raised a record $305 million in 2021
500 Global discussed investments, in a tech startup, with STZA's chairman 
The 500 Global delegations, during the meeting held with STZA Chairman Amer Hashmi, identified and discussed investment opportunities that may foster innovation and promote a technology-driven knowledge ecosystem. The delegation from 500 Global included chief operating officer and managing partner Courtney Powell, Board member Max Scheder-Bieschin and Alysia Lopez, executive assistant to 500 Global's CEO Christine Tsai and Powell.  Ms Powell and Mr Scheder-Bieschin also discussed the role of the National Incubation Center, Lahore (NICL) in preparing the future generation of startup founders.
The chairman of STZA invited the delegation for a visit to Pakistan to meet start-ups, incubators, local venture capitalists, and other stakeholders in the public and private sector. The STZA team briefed the visiting delegation about the Special Technology Zones (STZs) created by the government of Pakistan to attract foreign direct investment, allow technology transfer, boost technology exports, prioritise research and development, and enable job creation for Pakistani youth.
Pakistani startups getting huge funds from Int'l market
Minister for Planning and Development Asad Umar revealed that Pakistani startups businesses got huge funds from the International market during the last six months. Talking to the KP Digital Youth Summit in Peshawar he mentioned that Pakistani freelancers have become the fifth-biggest community at the international level and the locally made projects of youth are getting acknowledgement and appreciation at the global level.
Source: Dawn