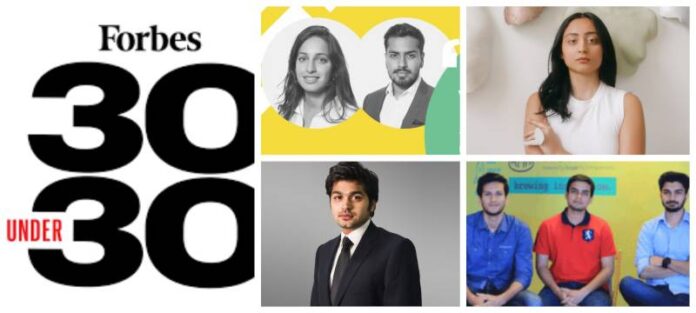 This year thirteen young Pakistanis have made it to the Forbes 30 Under 30 list. Most of these skilled people belong to diverse walks of life and have been executing incredible contributions as a business and industry figure in Pakistan.
This list consists of young entrepreneurs such as the co-founders of Bazaar Technologies, which raised $6.5 million in one of the biggest seed rounds in the Middle East and North Africa region. Both Hamza Jawaid and Saad Jangda wish to modernize conventional retail in Pakistan and have allowed Bazaar to become one of the most sort out-funded startups in Pakistan with its total raise adding to $7.8 million.
The Forbes list also includes the husband-and-wife duo, who established CreditBook in June to support small-scale businesses in Pakistan. Iman Jamall and Hasib Malik launched an app that facilitates small business owners to handle their finances more dependably. To this date, the startup has managed to raise $175,000 in pre-seed funding and has already enrolled 250,000 users within six months.
Read more: Ahmad Awais becomes the first Pakistani to receive the Gold GitHub Stars Award, being among the 8 developers to have been honored
Next on the list is, Muhammad Owais Qureshi and Zohaib Ali, the co-founders of Dastgyr. They started this startup while severe lockdown situations in 2020 with a total investment of $300,000 and the purpose of solving inventory acquisition difficulties for more than 2 million retailers across Pakistan. 
Furthermore, the list also featured Abdullah Siddiqui, under the category of 'Entertainment & Sports' for his ability to compose English-language electronic music at the age of 11. Siddique began releasing his music as an independent musician at the age of 16 and has further performed on the Nescafé Basement.
Read more: Pakistan drops to 90th rank among 120 countries on the 'Inclusive Internet Index'
Yaseen Khalid, M. Saquib Malik, and Nabeel Siddiqui have also been included in this list. They are the co-founders of ModulusTech, the team of three present an innovative and environment-friendly flat-packed house that can be established within a day by three people utilizing simple hand tools. Moreover, the Visual artist and designer, Misha Japanwala, is also part of the Forbes 30 Under 30 'The Arts' category for her phenomenal work on approaching domestic violence topic and honor slaughter concerns in Pakistan.
Shayan Mahmud, who is the managing partner at Eikon7. Mahmud has not just supported the agency growth to more than 100 employees in Pakistan but further overseas Eikon7 subsidiary Trademor is also part of the list. Last but not the least, Hannia Zia was is recognized for her efforts in establishing the Prime Minister's Office initiative Digital Pakistan and being the Pakistani Government's single product manager of its pandemic tech response.
Source: Daily Pakistan