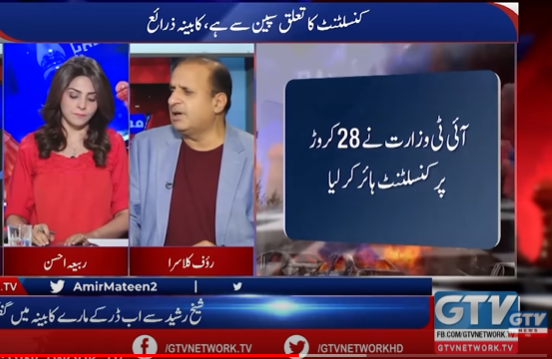 Pakistan's IT talent has received appreciation from all over the world and the sector is constantly on a ramp-up. Still, the IT Ministry of Pakistan appears to be inclined towards spending a considerable amount of the taxpayer's money on hiring skilled IT experts from overseas. 
Rauf Klasra, a veteran investigative journalist, revealed in the latest episode of "Mad e Muqabil" on GTV that the cabinet had approved an E-voting consultant for the IT ministry, costing the taxpayers a huge amount of 28 crores. The appointment could indicate the hiring of "The most expensive consultant in Pakistan's history." Further on the topic, the journalist criticized the government, proclaiming in a tweet that the government has funds to obtain cabinet support for the hiring of an IT consultant from abroad, but does not have enough to secure COVID-19 vaccines.
Read more: IT ministry approves 9 broadband fiber optic projects to boost internet speed
Moreover, the information presented by the reporter also states that the IT Ministry had submitted a report to the Economic Coordination Committee (ECC) for the endorsement of funds to hire a Spanish consultant to guide on the establishment of an E-voting system to facilitate voting for the Pakistanis residing abroad. The journalist has also proclaimed that the Prime Minister is quite motivated by the possibility of adding some 4-5 million votes to his vote bank through the means of the E-voting system, considering the support receives from abroad.
Read more: IT-related exports will surge to USD 5 billion by 2023, PM was informed
The reporter during the program commented sarcastically, "Pakistanis make tall claims about their achievements in the field of IT, but they should realize the ground reality that is, not one Pakistani is qualified enough to be hired to consult for the E-voting system."
Furthermore, Ali Zaidi and Fawad Chaudhary were the only two government ministers who proposed objections against this action and requested justifications for this excessive expense.