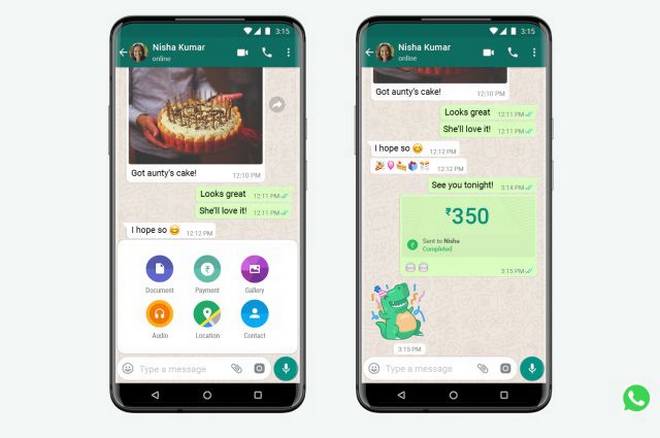 Facebook-owned WhatsApp, the popular messaging service, on Friday announced the roll of its payment services in India resulting from the approval from the National Payments Corporation of India (NPCI) after about over two years of waiting. The company began testing its payment service in India with 1 million users in early 2018. The process has finally started to roll out the feature to more users in the country.
Facebook has been trying for quite a while now to launch its e-commerce business in India, a region where companies such as domestic pioneer Paytm, Google Pay, Walmart's PhonePe, and Amazon Pay currently dominate. Although, India is considered to be one with the largest market scope for WhatsApp with more than 400 million users, which grants the firm a unique edge in a market predicted to grow to $1 trillion by 2023.
"Starting today, people across India will be able to send money through WhatsApp. This secure payment experience makes transferring money just as easy as sending a message," WhatsApp said in a blog post.
"With UPI, India has created something truly special and is opening up a world of opportunities for micro and small businesses that are the backbone of the Indian economy. India is the first country to do anything like this. I'm glad we were able to support this effort and work together to help achieve a more digital India", said Facebook CEO Mark Zuckerberg in a statement.
"I am excited today that WhatsApp has been approved to launch payments across India. Now you can send money to your friends and family through WhatsApp as easily as sending a message. There's no fee and it's supported by more than 140 banks. And because it's WhatsApp, it's secure and private, too," he said.
In the blog post, WhatsApp explained the procedure that is needed to transfer money on WhatsApp in India, it's essential to possess a bank account and debit card in India. WhatsApp sends instructions to banks, also known as payment service providers that initiate the transfer of money via UPI between the sender and receiver bank accounts.
"We're delighted to be working with five leading banks in India: ICICI Bank, HDFC Bank, Axis Bank, the State Bank of India, and Jio Payments Bank. People can send money on WhatsApp to anyone using a UPI supported app," it stated further, adding for additional security, a personal UPI PIN will be required for each payment.
Image Credits: The Hindu
Read more on K-Electric Launches Tele-Billing Services