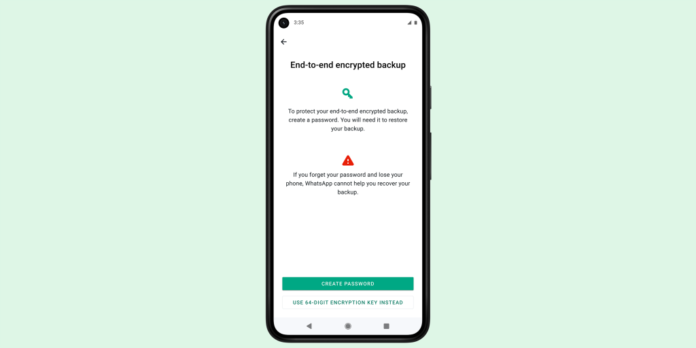 Facebook announced that WhatsApp's end-to-end encrypted chat backups will be available from today. Although Facebook has offered an end to end encryption for year's that has been upgraded with a slight change – you will get the same end-to-end encryption with backups well. The backups will be stored in Google Drive or iCloud, which no one will be able to access.
Read more: WhatsApp Tests Voice Message Transcription Feature to Convert Audio Messages to Text
WhatsApp's end-to-end encrypted chat backups will provide an additional layer of protection
The Facebook-owned messaging app stated; "You can now secure your end-to-end encrypted backup with either a password of your choice or a 64-digit encryption key that only you know. Neither WhatsApp nor your backup service provider will be able to read your backups or access the key required to unlock it."
Facebook wrote in a blog post; "With more than 2 billion users, we are excited to give people more choices to protect their privacy. We will be rolling this feature out slowly to those with the latest version of WhatsApp. No other global messaging service at this scale provides this level of security for their users' messages, media, voice messages, video calls and chat backups." The company also added; "This feature will provide people with more privacy and security for their digital conversations and that's a responsibility that we don't take lightly." 
How to enable the backup
Once the feature is rolled out to your device you have to manually enable the WhatsApp end-to-end encrypted backup. You can follow these steps:
Open settings
Select chat backup from the chat option
Tap on the end-to-end encrypted backup option and click continue
Create a password or key and wrote it down somewhere because if it is lost then even Facebook won't be able to retrieve it
Tap Done and wait for WhatsApp to create your backup. It will take a while and you might need a power source for it.
Source: The Verge