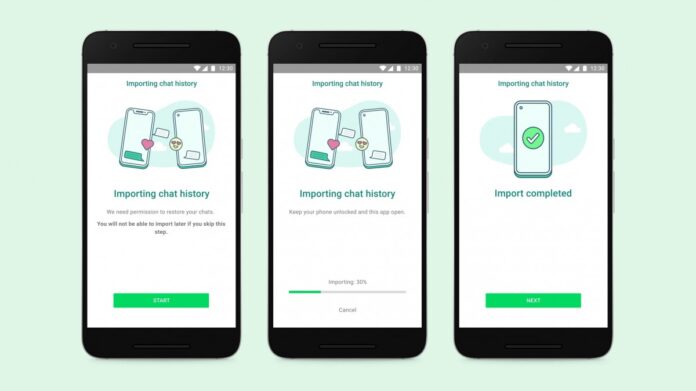 Last month on the day of Samsung's official unveiling of the Galaxy Z Fold3 and Z Flip3, the popular instant messaging app, WhatsApp announced its plans to support moving WhatsApp chat history from iOS to Samsung devices running Android 10 or 11. Now, this feature has finally been rolled out to Samsung handsets on Android 10 or 11. Therefore, if you want to transfer your WhatsApp chat history to it from an iPhone, you can do so now.
The entire process occurs without your messages ever being sent to WhatsApp and involves voice messages, photos, and videos. When a user sets up WhatsApp on a new Samsung device operating on Android 10 or 11, he will get the option to securely transfer his WhatsApp chat over from an iPhone. However, to move WhatsApp chat, a USB-C cable will be required. 
Moreover, account information, profile photos, individual chats, group chats, chat history, media and settings are all transferred over to the new device. 
How to Transfer WhatsApp Chat History from iPhone to a Galaxy Phone
As per WhatsApp, there are a few things you need to be able to transfer your iPhone backup to Android successfully. These are:
Samsung SmartSwitch app version 3.7.22.1 or greater installed on the new device

WhatsApp iOS version 2.21.160.17 or greater on the old device

WhatsApp Android version 2.21.16.20 or greater on the new device

USB-C to Lightning cable (or equivalent adapters)

Use the same phone number on the new device as the old device.

The new Android device must be factory new or reset to factory settings.
The Feature to Move Chats Soon to Expand to Other Android Devices
As per WhatsApp, the process of WhatsApp Chat Transfer should soon be expanded to more Android smartphones. The firm is also working on its own end-to-end encrypted cloud backup solution, which should make it possible to move chats from Android to iPhone in the future.
Read more: WhatsApp Fined €225M by European Union over Severe Privacy Breach