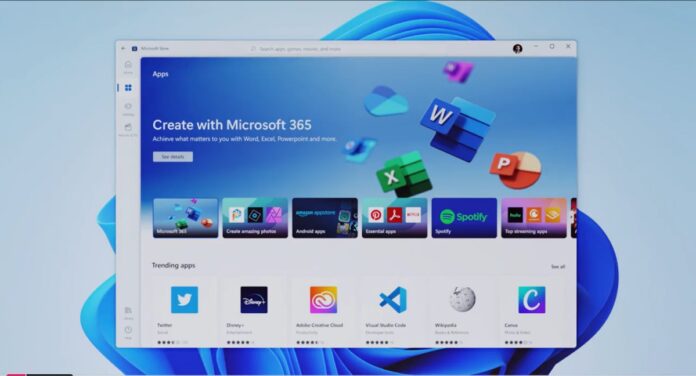 With the launch of Windows 11 just being around the corner, which is on October 5, Amazon Android Appstore has appeared on the Microsoft Store, registering that users will be able to download Android apps on Windows 11, but they will be redirected to Amazon Appstore to complete the process.
Microsoft to Begin Public Testing of Android Support App
Furthermore, the Amazon Appstore has recently been spotted online as an app for Windows 11, implying that Microsoft is very close to beginning the public testing of Android app support on the new Operating system of Windows 11. For the time being, the app still can't be downloaded, but most likely, the download links would go live rather sooner than later.
Users Can Download Android Apps Through the Amazon Appstore
"We are bringing Android apps to Windows for the first time. Starting later this year, people will be able to discover Android apps in the Microsoft Store and download them through the Amazon Appstore – imagine recording and posting a video from TikTok or using Khan Academy Kids for virtual learning right from your PC. We'll have more to share about this experience in the coming months. We look forward to this partnership with Amazon and Intel using their Intel Bridge technology," Microsoft originally stated without sharing any specifics.
Read more: Android Dominance In India Abused By Google, Unearths Antitrust Probe
Microsoft Windows 11 to be Completely Launched by 2022
Moreover, Windows 11 is predicted to start rolling out on October 5, but the Android app support would be incorporated in preview builds for insiders later this year. The company has also promised to complete the launch of Windows 11 by mid-2022, according to the original release calendar.
According to recent media reports, the Microsoft Store's listing of Amazon Appstore informed that the feature would run on devices powered by Intel, AMD, or on those based on ARM-based architecture. The listing reveals that the feature will need the PC to be operating on version 22000 or higher of the company's six-year-old Windows 10 operating system.
Meantime, the system specifications section revealed that the feature would expect a minimum of 8GB RAM to operate. Although the suggested requirement is that of 16GB of RAM.
Source: Mashable Pakistan