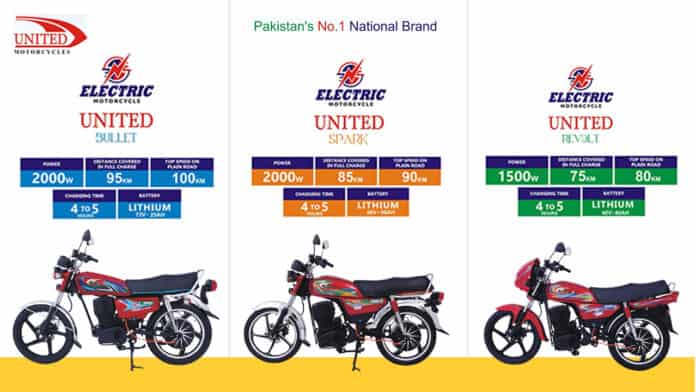 United Auto Industry has launched three new electric bikes in Pakistan including Revolt, Spark, and Bullet. United Motorcycles is one of the biggest motorcycle manufacturers in the country and the three new electric bikes are expected to be met with enthusiasm given the soaring fuel prices and inflation.
More Details on the Three New Electric Bikes
All three electric bikes boast excellent performance with brilliant comfort which makes them a perfect candidate for all segments. Here are the specific details on each model:
United Spark: This bike is priced at Rs. 288,000 having a conventional 100CC bike design. Equipped with a 2000-watt electric motor, the bike operates with a 48-Volt battery. It can reach a maximum range of 85 kilometers on a single charge while attaining a top speed of 90 km/h. Charging the battery to full capacity typically takes 4 to 5 hours.
United Bullet: This bike is priced at Rs. 288,000. It has a 2000-watt electric motor making it one of the most powerful electric bikes in Pakistan. The engine of the bike is paired with a 72-volt battery so that it can deliver 95 kilometers range on a single charge. Moreover, the battery will take up to 4 to 5 hours to fully charge.
United Revolt: This bike is priced at Rs. 253,000. It is an entry-level electric commuter having a conventional 70CC bike design and equipped with a 1500-watt motor that operates on a 48-Volt battery, the bike can reach a top speed of 80 km/hr. The battery takes approximately 4 to 5 hours to reach full charge.
Also read: BMW Launches Four New Motorbikes of Different Variants in Pakistan