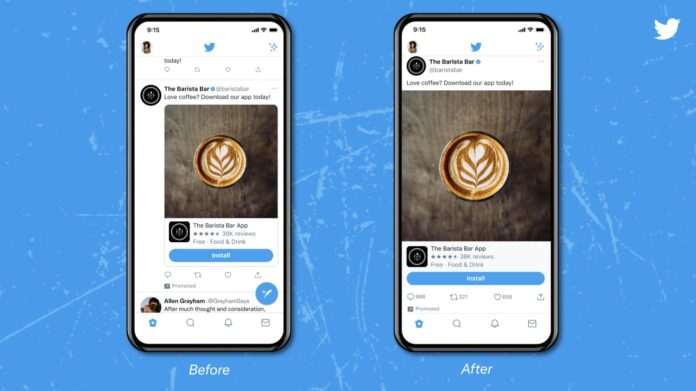 The popular microblogging platform, Twitter is now venturing its way into creating a more visually immersive experience with its latest testing of edge-to-edge tweets to the app on iOS. The full-width pictures and videos also come with enhanced cropping controls for its pair of mobile apps. Therefore, making plenty of photographers and other visual art creators happy. 
Twitter Rolls Out a Live Test of Edge-to-Edge Pictures and Videos
After testing edge-to-edge pictures and videos internally over the past couple of months, the company has now rolled out a live test of its latest, full-width visual display for tweets in-stream. 
Twitter is initially testing the edge-to-edge media in Tweets on iOS to give users a borderless view of pictures and videos on their Twitter feed. "Edge-to-edge Tweets that span the full-width of the timeline so your photos, GIFs, and videos can have more room to shine," Twitter Support said in a tweet.
Twitter Wants to Add More Visuals in Twitter Conversations
Furthermore, in the current test, tweets fill the full frame from left to right instead of being offset by a pretty large margin on the left. The modifications result in much larger pictures and videos that appear better in the feed and a cleaner, more modern layout that does not needlessly squeeze tweets to the right side of users' profile images.
Read more: Twitter Launches Paid Subscriptions 'Super Follows' for Exclusive Tweets
In addition to this, in testing this feature, Twitter asserts that it wants to encourage users to have discussions across pictures and videos, rather than concentrating entirely on the text like the platform traditionally has. 
Twitter Brings the Timeline to Life with Larger Pictures and Videos 
Furthermore, the latest visual format of edge-to-edge pictures and videos will occupy the entire horizontal area in the timeline, which will make the shared pictures and videos appear with more solid blocks of visuals in the app.
As Twitter explains, "By reducing the margins on Tweets, we can better use the space in a Tweet so the focus is on your message and what you have to say while bringing the timeline to life with larger photos and videos. This test explores how we might support conversations in all their different forms by giving Tweets with photos, videos, and text more room to shine."
Source: TechCrunch