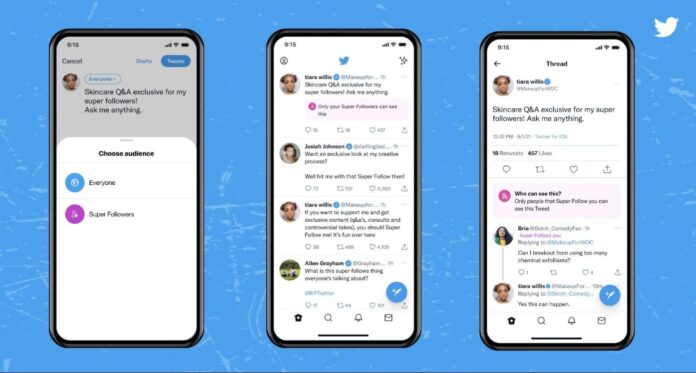 On Wednesday, the popular social media company, Twitter has finally launched Super Follows, its premium paid subscription option. The feature, first announced in February, will enable users to subscribe to accounts they prefer for a monthly paid subscription in exchange for exclusive twitter content. For creators, Super Follows are another useful tool in the evolving patchwork of monetization opportunities across social media platforms.
The Monthly Paid Subscription Will Range From $2.99 to $9.99 
Qualified accounts can establish the price for Super Follow paid subscriptions, with the choice of charging $2.99, $4.99, or $9.99 per month, charges justly comparable to a paid newsletter. Furthermore, they can then decide to mark some tweets for subscribers only while continuing to reach their unpaid follower base in general tweets.
Twitter to Take a 20% Cut on the Earnings of $50,000
Moreover, applications for Twitter users to obtain access to Super Followers and Ticketed Spaces, which are paid audio chat rooms, rolled out in June. Users will be provided with 97% of the income earned from the monetized features after in-app purchase fees. Though, once a particular user earns $50,000 in lifetime profits from Twitter, the firm will receive a 20% cut. To become qualified for the Super Follows waitlist, a Twitter user needs to have at least 10,000 followers, be 18 years old, and have tweeted 25 times in the past 30 days.
People of Different Professions Can Earn Money Through Super Follows 
The latest feature, Super Follows is envisioned to further prompt conversation and facilitate users to earn money while providing content to their biggest followers. People who users can Super Follow will involve activists, reporters, musicians, content collectors, authors, gamers, astrology devotees, skincare and beauty specialists, entertainers, fantasy sports specialists, and more.
Read more: Twitter Introduces Several New Updates to Its Direct Message System
In addition to it, iOS users in the U.S. and Canada can Super Follow select accounts, and the feature will launch worldwide in the next few weeks. However, access to Android and Twitter.com will arrive at a later date.
The company described the Super Follower material as "unfiltered thoughts, exclusive news, early previews, and subscriber-only discussions."
For instance, popular makeup experts may offer at-home beauty tips, an astrologist can examine someone's birth chart or an NBA specialist can share exclusive interviews with Super Followers. Someone who Super Follows another Twitter user through paid subscription will have a special public badge on their profile, which will appear when they reply to a creator's tweets. To Super Follow someone, a button will appear on that person's profile with a summary of their content and price. In-app payment is expected to subscribe to the account.
Source: TechCrunch