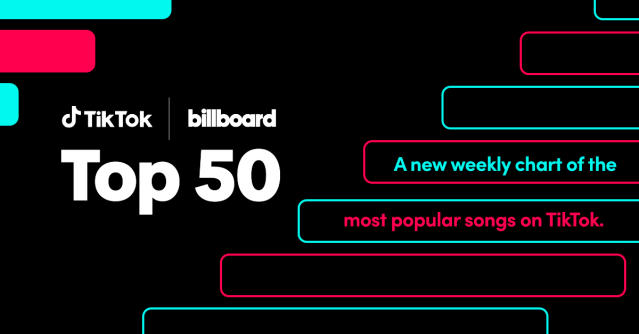 TikTok and Billboard have patterned for an innovative musical collaboration, introducing the official TikTok Billboard Top 50 Chart. This chart is set to revolutionize the way we measure musical popularity, taking into account the dynamic realm of the short-form video-sharing app. With its finger on the pulse of pop culture, this collaboration is poised to reshape the music industry's landscape.
Charting TikTok's Sonic Waves
The TikTok Billboard Top 50 Chart will be a dynamic representation of the hottest songs on the platform, shifting and evolving week by week. What sets this chart apart is its unique methodology for ranking songs. Instead of relying solely on traditional metrics like streams and downloads, it delves deep into the heart of TikTok's user-generated content. It measures a song's popularity based on the number of views, user engagement, and the sheer volume of videos created using that particular track.
Every Thursday morning, eager music enthusiasts and curious TikTok users alike can witness the chart's unveiling. Accessible through both the TikTok app and the Billboard website, this chart will serve as a testament to the symbiotic relationship between music and social media in the digital age. It's worth noting that TikTok and Billboard will focus exclusively on monitoring trending songs within the United States, reflecting the unique musical tastes of the American TikTok community.
TikTok and Billboard Patnership's Impact on Emerging Artists
The TikTok Billboard Top 50 Chart shines a spotlight on the undeniable influence of TikTok on the music industry. This partnership has been instrumental in catapulting emerging artists to viral stardom, allowing them to flourish in an environment where creativity knows no bounds. Names like Lil Nas X, Tai Verdes, Benee, and Loren Gray have all emerged from TikTok's crucible, thanks to the platform's ability to make songs go viral almost overnight.
But it's not just newcomers who have benefited from this musical phenomenon. TikTok has also breathed new life into older classics. Artists like Kate Bush, whose "Running Up That Hill" experienced a resurgence, have found themselves once again in the spotlight.
In the words of Ole Obermann, global head of Music Business Development at TikTok, "The chart gives a clear picture of the music that is being listened to on TikTok, and consequently starting to trend on DSPs (Digital Service Providers) and other services." TikTok's impact on the music industry is undeniable, and this chart is a testament to the power of short-form video in shaping musical trends.
Also read: TikTok Integrates Shopping Features Effortlessly Throughout Its App