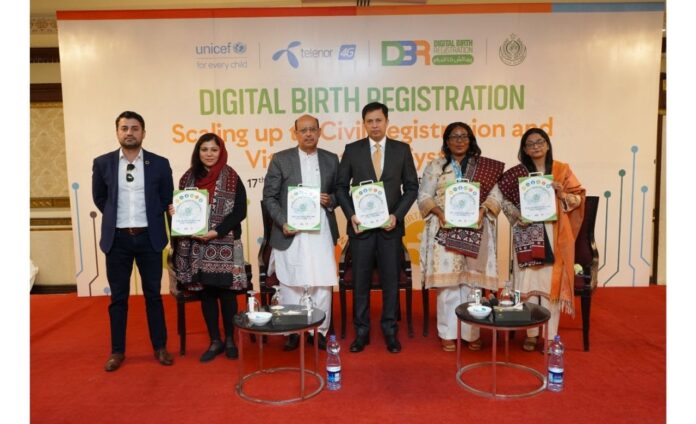 In the recent news, Telenor Pakistan and UNICEF have collaborated to hand over the Digital Birth Registration (DBR) system to the Sindh government. After the successful inauguration of the three pilot districts, the Sindh government is now all set to take over the Digital Birth Registration System project and scale it across the province.
In an event that was hosted in Karachi and was attended by executives from Telenor Pakistan, UNICEF, and the Sindh government, the Digital Birth Registration System project was transferred to the regional government. The project, with its purpose of registering the birth of kids under the age of 17, has already helped identify the identities of nearly 1.8 million children across the country ever since its launch back in 2017. 
The Digital Birth Registration System Will Provide Children with Their Basic Rights
Furthermore, the Digital Birth Registration System project guarantees that every child gets their fundamental right of individuality which would result in providing them better access to schooling, healthcare, and basic human rights. Conversing about the importance of the DBR system, CEO Telenor Pakistan Irfan Wahab Khan clarified that it plays an important role in the country's endeavor to accomplish its development goals. 
Read more: Telenor is Planning to Merge its Telecommunication Unit in Pakistan
"Birth registration is the fundamental right of every child and is a legal proof of their existence," the executive emphasized. "Every life registered through the DBR platform takes the nation other steps closer to the fulfillment of country's development goals, and even more importantly, plays a vital role in mitigating the effects of inequalities and socio-economic disparities." 
The New System Will Help the Kids to Access their Future
In addition to this, at the project transfer ceremony, VP Sustainability and Partnerships at Telenor Group, Zainab Hussain Siddiqui, stated that the DBR System was initiated as a method for effective usage of technology to give children their basic right to an identity. 
"Today the project is set to take on a larger scale, helping more children access their right to a future," she stated. "This progress has been possible thanks to strong collaboration with our global partner UNICEF and the support and engagement of relevant government agencies." 
Source: TechJuice