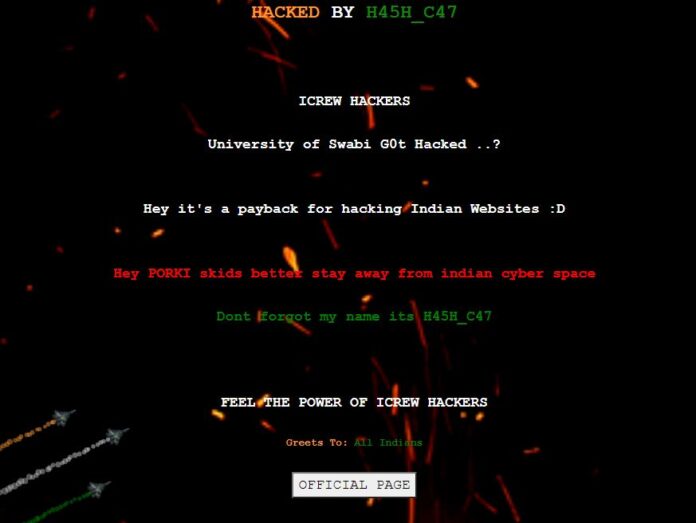 It is reported that the Indian Hackers, known by the name of "ICREW Hackers", led by "H45H_C47", have illegally hacked the official website of the University of Swabi. As per the currently available appearance of the website, the hackers have retaliated as revenge against the deeded committed by the Pakistani hackers for performing the same act on multiple Indian sites.
Numan Khan, an official university spokesperson stated that "The objective of the hacker is not known, but after the earlier hack the varsity management had contacted the company with whom it had the agreement, and the website was restored after a few days". He also mentioned that the website was able to be hacked by the very same hacker twice in the week.
He furthermore stated that they had filed the complaint to officials of the company, expecting the restoration of the website with 48 hours. 
Read more: PTA bans viewership of Ahmadiyya website for propagating blasphemous content
The other officials of the institution also mentioned that they lost all their access through the website to the students and the faculty, as they are not in a significant position to forward any messages. They also added the university needs to search for a permanent solution for all this chaos as it has not occurred for the first time and this routine disturbs the management of the institution. 
The process of how the hackers were successful in hacking is still now found, therefore the hackers are still in the possession of the website. This hacking incident can be concluded as the second highest-profile attack on the institutions of Pakistan. The Russian hackers attack PIA's database being the first, as the hackers had placed the PIA network and database up for the sale on the dark web.
It is also reported that the said hackers are in the possession of their own YouTube channel and Facebook page, which they have mentioned on the hacked university's site. 
Information provided by their Facebook pages states, that the hackers are part of the Indian Cyber Research and Empower Wing. 
Source: TechJuice