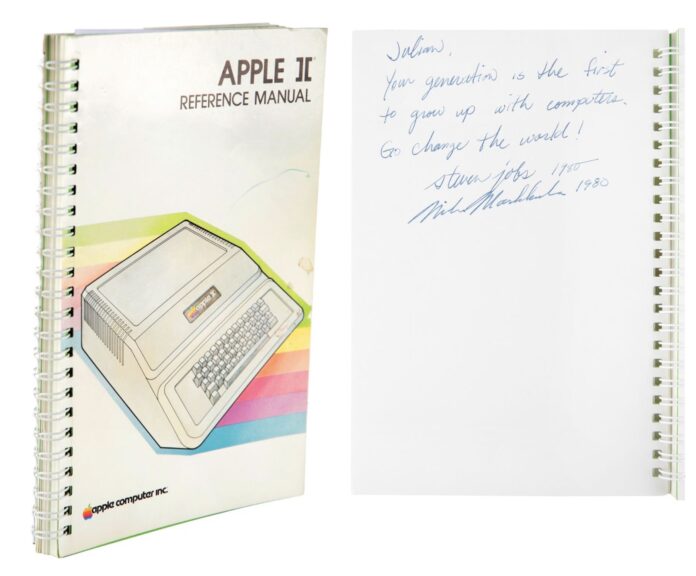 The Apple II computer user manual from 1979 autographed by Steve Jobs and Mike Markkula was sold for $787,484 at a Boston-based RR Auction. The Steve Jobs' signed manual was bought by Jim Irsay, Owner & CEO of the Indianapolis Colts. The manual will be a part of the Irsay Collection that he has collected over various decades.
The Steve Jobs' signed manual
The 196-page manual explains the technical aspects and functioning of the Apple II computer and features a fold-out scheme of the device's major logic board. The document originally belonged to Julian Brewer, the son of Michael Brewer who had bought exclusive distribution rights for Apple products in the UK and later became the first Managing Director of Apple Computer UK.
The manual is signed and inscribed with a message addressed to Julian Brewer, the son of Michael Brewer: "Julian, Your generation is the first to grow up with computers. Go change the world!" It was also signed by one-time Apple CEO Mike Markkula.
RR Auction also sold a letter of Steve Jobs' stating that he doesn't sign autographs, which garnered a winning bid of $479,939. The collection also included an Apple computer owned by Roger Wagner that knocked an enormous price of $464,876 while the signed Macintosh motherboard was sold at $132,049. The Apple Lisa Computer was auctioned for a price of $94, 949 and an Apple II floppy disk drive signed by Wozniak was bought for $201,021.
Read more: The father of the web, Tim Berners-Lee, is all set to auction world wide web source code
Steve Jobs' NFTs
NFTs have opened up art to a whole bunch of people who never would have gone to a gallery and it is continuously expanding. Fans are completely hooked on this newfound craze. Last month, the NFT version of Jobs' handwritten job application was sold for $1,209.75. In August 2020, Jobs' signed magazine was bought for $16,638. Moreover, a picture of the leather bomber jacket that was worn by Jobs in 1983 was sold at $66,466.
A brief history of Apple II
The Apple II was the company's first successful product and is generally regarded as one of the first computers created for the masses. It was launched in 1997 – the most successful launch in the history of selling.
The incredible Apple II became one of the most successful and recognizable computers for over 15 years. It was religiously used in educational institutions, which resulted in it being the first computer in widespread use in American colleges and secondary schools.