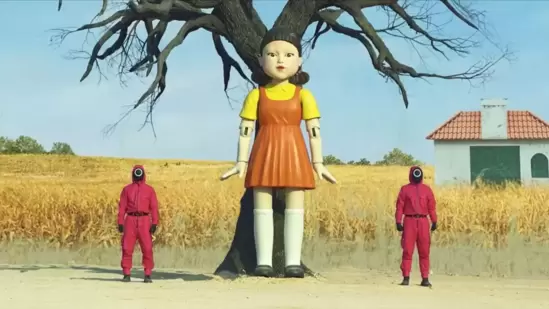 Netflix's highly anticipated Squid Game reality show, Squid Game: The Challenge, is poised to make its debut on November 22, bringing viewers a unique blend of competition and dystopian drama. The release date conveniently coincides with Thanksgiving, offering a chance to celebrate the holiday with a captivating adaptation of the series that exposed the grim realities of late-stage capitalism.
Squid Game: The Challenge – A High-Stakes Competition
"Squid Game: The Challenge" is a 10-episode reality series that will see more than 450 contestants participating in events inspired by the original TV show, along with brand-new challenges. While the show may not involve the bloodshed seen in the fictional "Squid Game," it boasts an astonishing $4.56 million prize for the ultimate winner, marking it as the most substantial reality show payout in history, according to Netflix. As fans eagerly await its premiere, they can anticipate an array of references to the source material, from the iconic "red light, green light" doll to contestant costumes reminiscent of the series. The show's cinematography also mirrors the dystopian ambiance of its predecessor.
Contestants' Quest for Wealth
The Korean series "Squid Game" shed light on a nightmarish vision of late-stage capitalism, and while we might not live in such a world, the reality show's production had its share of headlines. Contestants faced health emergencies due to exposure to harshly cold temperatures during one of the challenges, emphasizing the extreme measures individuals were willing to endure for a substantial cash prize. Even with hypothermia setting in, many participants persevered, driven by the allure of potential wealth. With the release of "Squid Game: The Challenge" just around the corner, audiences can witness the struggles and sacrifices of contestants vying for a 1 in 456 chance of winning.
While the concept may seem brutal, it's a reminder of the unique appeal of reality shows that push contestants to their limits, all for the chance of a life-changing reward. In this regard, "Squid Game: The Challenge" promises to be an unforgettable addition to the realm of reality television, riding on the coattails of the original series' tremendous success. Additionally, fans of the original "Squid Game" can also look forward to the upcoming second season, though a release date for it has yet to be revealed.
Also read: Gamebox Partners with Netflix to Launch Squid Game's Real-life Experience