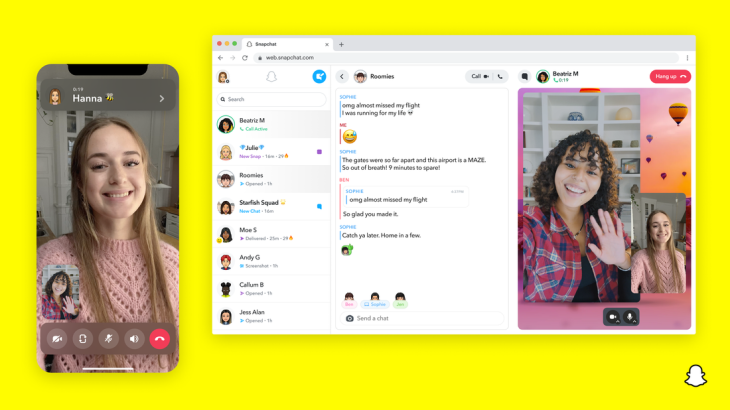 For the first time, Snapchat has announced chatting and video calling features for the app's desktop version. Initially, the web platform of Snapchat will be available exclusively to Snapchat Plus subscribers and only the subscribers from the US, UK, Canada, Australia, and New Zealand will get access first.
Snapchat for Web Includes Reactions, Chatting, and Video Calling Features
Snapchat for Web includes all of the top messaging features like Reactions, Chatting and Video Calling features, it will also include lenses that will roll out in the coming weeks. According to Snap's head of messaging products, Nathan Boyd, As people are using computers more during the pandemic — and the new school year around the corner — Snap wants to bring more of its products to the web over time.
A statement from Snapchat reads; "With more than 100 million Snapchatters using our voice and video calling each month on average, we're excited to offer a new way for our community to keep conversations going on their computers. We can't wait to bring it to our entire global community soon." The messaging head of the company also mentioned that 100 million people call each other on Snapchat every month and spend an average of more than 30 minutes a day, which makes it a direct competitor of Whatsapp, Discord, Telegram, etc.
How Does the New Feature Work?
Login to Snapchat Web using the Chrome browser once you are logged in, you will see a video and audio call panel on the right and a chat view in the middle. To start a chat, click on the contact list present on the left, the chat interface will have buttons to video or audio call them, you can also react to the replies easily from your desktop.
Read more: Snapchat to Launch Revenue Sharing Mid-Roll Ads in Creators Stories