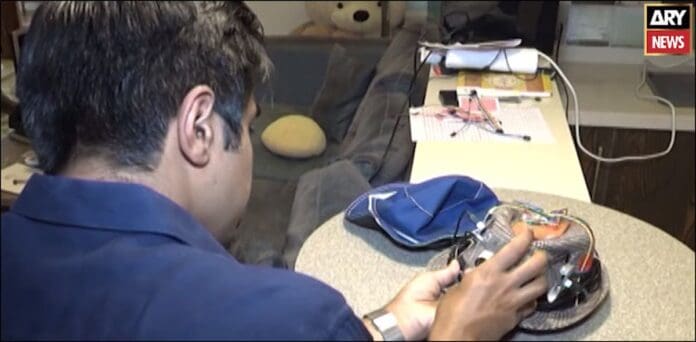 New inventions these days never fail to amaze everyone. Similarly, a smart cap developed by the student in Lahore is showing incredible performance as it helps the visually impaired walk without a stick.
The ARY News reported, that the student Muhammad Ahmed, came up with the invention of the smart cap while preparing for his final year project.
Ahmed also shared how his smart cap functions. He said that the cap is able to detect anything that is coming in the way around 2.5 meters. The cap uses two sensors that generate an alarming signal for blind people created by the vibration while the object is near.
He also mentioned that there are two sets of vibrations designed for the cap. The alert helps blind people by telling them the direction of the hurdle coming.
Read more: The alternative for WhatsApp made by the Pakistani government will go live next year
"If there is a hurdle on the right side, the vibration of this side will go on; in case of the left side, the left vibrator will act while in case of a hurdle on the front side, both the vibrators will act simultaneously," Ahmed stated.
He also added by saying that the cap does not only consist of vibration but also helps blind people in rush areas with the help of music. Music is yet another feature implemented in the cap that can help people in crowded places where vibration is not enough for alarm.
He said that the sensors used in the development of the smart cap are those used in the car parking sensors.
"I wanted to distribute it among the people suffering from vision loss free of cost and need help from the government in this regard," he said, adding that he was working on the project for the past year and it needs some more improvement.
Image credits: Techjuice
Also read: These Pakistani freelancers are making a difference despite hurdles