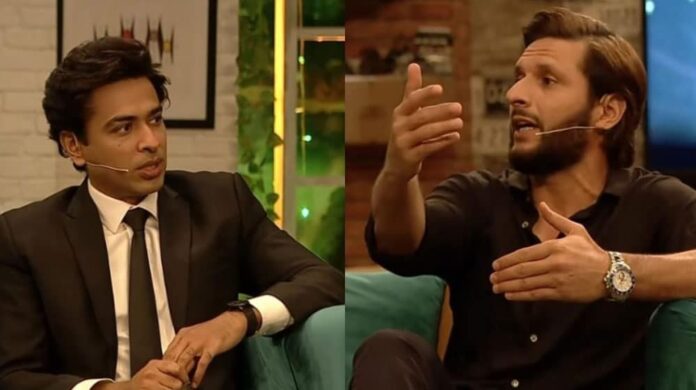 Pakistani star cricket team player, Shahid Afridi was recently invited to Ahsan Khan's talk show, Time Out with Ahsan khan along with famous Pakistani singer Shehzad Roy. The sports star urged the Mukhra singer that he should raise his voice to get a permanent ban on TikTok for the betterment of society.
According to Shahid Afridi, the short-form video app is being misused by people and is being accessed in areas of the country where the literacy rate is insufficient for the users to recognize the importance of using the app rightly. "Get this TikTok banned, please. You raise your voice for so many things, please get this banned too," said Afridi to Roy. "Many areas in our country don't have the facility of education but yet, they have the facility of the internet. People need to be educated to make good use of the internet," said Afridi.
Read more: Reddit Rolls Out a TikTok-Like Video Feed Feature for iOS Users
A Permanent Ban on TikTok would Stop the Increasing Indecency in the Society
The cricketer is in the favor of a permanent ban on TikTok instead of repeatedly blocking and unblocking it. He asked Roy to start advancing against the Chinese app, which he believed was increasing indecency, on his next visit to Islamabad. He also added that TikTok was a main social concern and responsible for several unfavorable incidents across Pakistan. 
Read more: Islamabad High Court Chief asks PTA to Justify Ban on TikTok
Shahid Afridi Against Children Using Smartphone
In addition to this, the star player also stated that children should not have access to smartphones and a particular age must be established for their usage. "I get shocked at seeing 12-13-year-olds with mobile phones in their hands. My daughter just turned 19 and I gave her a phone now. This is the time for children to be focused on achieving their goals… kids get diverted by all this," said Afridi. However, Shehzad Roy was not in favor to get TikTok banned in Pakistan for good, saying, "I believe it is more important to regulate internet usage than outright banning it."
Source: Pro Pakistani