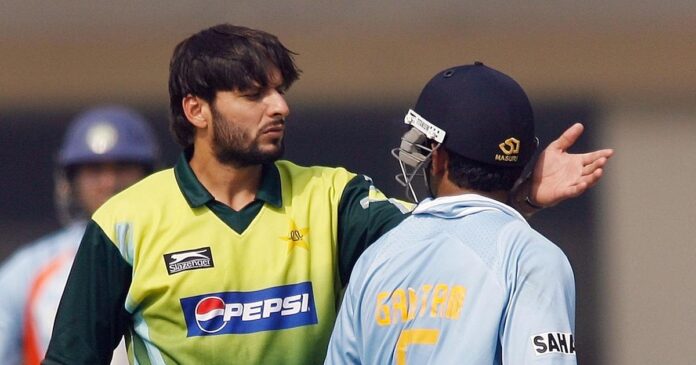 The much-anticipated clash between India and Pakistan at the Pallekele Stadium during the Asia Cup 2023 was marred by rain, resulting in both teams sharing a point for the group-stage match. Despite the weather interruptions, the camaraderie between players from both sides stood out, prompting former Indian cricketer Gautam Gambhir to express his astonishment at the on-field bonding. In response, Pakistan's legendary all-rounder Shahid Afridi had a different perspective, emphasizing the importance of spreading love and respect beyond the cricket field.
Gautam Gambhir's Statement Stirred Controversy
Former Indian cricketer Gautam Gambhir expressed his strong disapproval of the camaraderie displayed between Indian and Pakistani players during a conversation with Star Sports. Gambhir found it perplexing and disagreed with the level of friendliness on the field.
According to Gambhir, when representing one's national team on the cricket field, it's essential to maintain a competitive and focused demeanor. He emphasized the need for a "game face" and suggested that friendship should be left aside during the match. Gambhir stressed that there should be a visible level of aggression in the eyes of all players, irrespective of their nationality. He further highlighted the significance of those hours of play, where players are not just representing themselves but also an entire nation with a population of over a billion.
Gambhir also commented on the contemporary trend of players from rival teams patting each other on the back and exchanging fist bumps during matches, a practice that was less common in the past. He opined that it often resembled a friendly exhibition match rather than a competitive international encounter.
Shahid Afridi's Message of Love and Respect
Gautam Gambhir's remarks about the need for on-field aggression and leaving friendship aside during matches stirred controversy; however, Shahid Afridi, speaking to Pakistan media, offered a contrasting viewpoint. Afridi stressed that cricket players are not only athletes but also ambassadors of their respective nations; he advocated for sending a message of love and respect, emphasizing that life extends beyond the cricket field.
Shahid Afridi was right about Gautam Gambhir????❤️.pic.twitter.com/uqjGo1mPPN

— Ehtisham Siddique (@iMShami_) September 4, 2023
Before rain disrupted play, the Indian team, led by Rohit Sharma, managed to post a total of 266 runs in 48.5 overs. Pakistani bowlers made a formidable impact, with Ishan Kishan and Hardik Pandya being notable exceptions. The shared laughter between Indian and Pakistani players during the rain delay was a testament to the mutual respect and friendship that transcends political tensions between the two nations. While they haven't engaged in a bilateral series since 2012, the players' bond remains strong, and fans celebrated this unity on social media.
Also read: Rohit Sharma Maintains Poise Ahead of Asia Cup Showdown with Pakistan