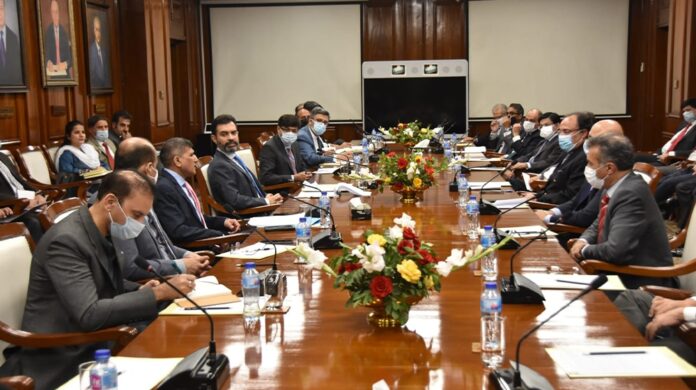 The State Bank of Pakistan (SBP) and the Federal Inve­stigation Agency (FIA) will strengthen coordination against money laundering, digital frauds and cyber-attacks, as discussed in the meeting hosted on Saturday.
FIA and SBP Partnering to Counter White-Collar Crimes
The said meeting hosted top officials of the commercial banks to strengthen and regulate efforts to combat money laundering, cyber-attacks, and online frauds. "The FIA team offered support in strengthening cyber security at banks and suggested them to carry out an information security audit of their systems," the SBP said in a statement.
Read more: SBP Launches Regulatory Approval System (RAS) for Banking Policy and Regulations
The conference identified essential follow-up areas and associated timelines for establishing collaboration between the SBP, the FIA, and banks in the areas of money laundering, cyber-attacks, and online fraud. Welcoming the FIA suggestion for the information security audit, "the SBP informed that as per existing regulations, banks are required to regularly carry out their information system audit and penetration testing, however, it would be re-emphasized to the industry through Pakistan Banks Association (PBA)," the statement added.
SBP Governor Emphasizes the Need for Expeditious Investigation of Cybercrimes 
Furthermore, SBP Governor Reza Baqir chaired the meeting with FIA Director General Sanaullah Abbasi. The conference was also attended by presidents of banks and senior officers of the FIA and the SBP. Baqir stressed the necessity for close interaction among banks, the SBP, and the FIA so that "white-collar crimes are expeditiously investigated and fraudsters are apprehended and prosecuted", the statement added.
Recently NBP and FBR Encountered Unforgettable Cyber-Attacks
The central bank of Pakistan has taken several initiatives in the recent past to strengthen its work on anti-money laundering (AML) as well as regulatory and supervisory advances to enhance banks' controls to prevent digital and social engineering scams, the statement said. To recall, the National Bank of Pakistan (NBP) and the Federal Board of Revenue (FBR) encountered cyber-attacks at the end of October and the middle of August, respectively. Cybercriminals, however, failed to steal important data and the banks' collaterals.
Source: Dawn