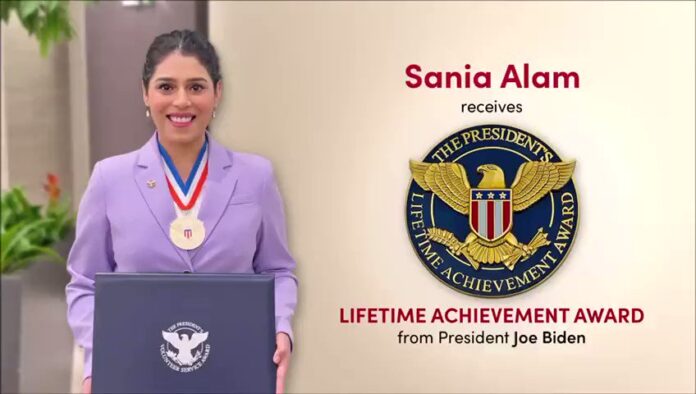 Recently, Pakistan-born professional trainer, Sania Alam has been recognized by the President of the United States of America, Honorable Joe Biden, with Presidential Lifetime Achievement Award 2021. Currently, Sania is the President of a US-based training institute, Futuristic Learning.
The professional training center helps countless professionals, large enterprises, and students employ their learning potential. Futuristic Learning retains expertise in developing the learning skills through mind mapping, speed reading, and memory skills development
She announced the news in a Twitter post stating, "Honored to be recognized by the President of the United States of America Hon. Joe Biden with Presidential Lifetime Achievement Award 2021. @JoeBiden @WhiteHouse"
Read more: Pakistani developer acknowledged by Microsoft CEO for his contribution to NASA's mission Mars
Lifetime Achievement Award Winner Sania Alam is Also a Member of NYC
In addition to this, professional trainer, Sania Alam recently joined the National Youth Council (NYC) of Pakistan as a member. She also has the experience of training the great minds at the Government of Pakistan's Ministry of Science & Technology, Middle & Higher Management of Engro Corporation, 400 Senior Officers of Pakistan Army at Command & Staff College Quetta, have also conducted Super-Learning Workshops for more than 700 participants at a time.
Proud to see our own #KamyabJawan member of PM @ImranKhanPTI National Youth Council, @SaniaAlamIHMDin achieving great heights not only in #Pakistan but globally.
Congratulations for achieving the Lifetime achievement award from @POTUS 🇵🇰 pic.twitter.com/a2Z4WDR3oA

— Usman Dar (@UdarOfficial) August 10, 2021
President's Lifetime Achievement Award is awarded to a person who, in the opinion of the critics, has delivered a fundamental, sustained and notable contribution to the discipline of anthropology over the course of their career. The award may be presented to a person of any nationality, and there is no limitation on which sub-branch of anthropology from which the winner may be chosen.
Read more: 13 young Pakistanis make it to Forbes '30-under-30′ list