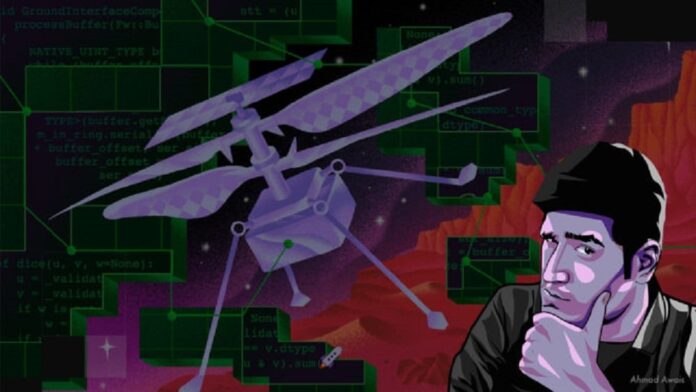 Chairman and CEO of Microsoft, Satya Nadella, appreciated a Pakistani developer (Ahmad Awais), in his address at Microsoft Inspire Conference, whose contribution to GitHub open-source code helped NASA's Ingenuity Helicopter Mission to Mars.
Talking about his contribution, Awais said; he had once fixed a minor bug and completely forgot about it. Until GitHub notified him that his code contributed to the software of Mars 2020 Helicopter Mission. He added that it was a shocking moment for him when he realized his code enabled the world's first successful experiment at a powered, controlled flight of an aircraft to another planet.
✨ Folks, something amazing just happened!! ✨

I'm humbled to have been featured by @SatyaNadella CEO @Microsoft — in his keynote at #MSInspire Conf.

Re: My Open Source Contribution to NASA's Ingenuity Helicopter made it to Mars. ?

I wrote about it → https://t.co/P2RS7xUpRJ pic.twitter.com/KxJpNdFTuD

— Awais (@MrAhmadAwais) July 15, 2021
Pakistani developer, Ahmad Awais is one of Pakistan's first GitHub Stars and a Google Developer Expert, who is continuously working on the latest technologies and empowering upcoming and yearning developers through his blogs and courses. Moreover, he has been providing code and docs for over ten years.
Read more: Ahmad Awais becomes the first Pakistani to receive the Gold GitHub Stars Award, being among the 8 developers to have been honored
Back in May, the US embassy in Islamabad also appreciated Ahmed for contributing code to the software for the Mars 2020 helicopter mission, also known as NASA's Ingenuity Helicopter.
Ingenuity is a small robotic helicopter operating on Mars as part of NASA's Mars 2020 mission. On April 19, 2021, it completed the first powered controlled flight by an aircraft on a planet, besides Earth. NASA officials portrayed the first Ingenuity flight as their "Wright Brothers moment", as a metaphor for the first successful airplane flight on Earth. A small piece of the wing cloth from the Wright brothers' 1903 Wright Flyer is also fastened to a cable underneath Ingenuity's solar panel.
A small solar panel is tuned to the relatively low levels of sunlight that charge the helicopter's batteries during the day and electric heaters keep the vehicle warm during nights that can fall to -130°F.
The fundamental purpose for the mission of Mars is astrobiology, including the exploration of clues of ancient microbial life. The rover will define the planet's geology and past climate, carving the way for the human expedition to the Red Planet, it is also the first mission to collect and stash Martian rock and regolith (broken rock and dust).