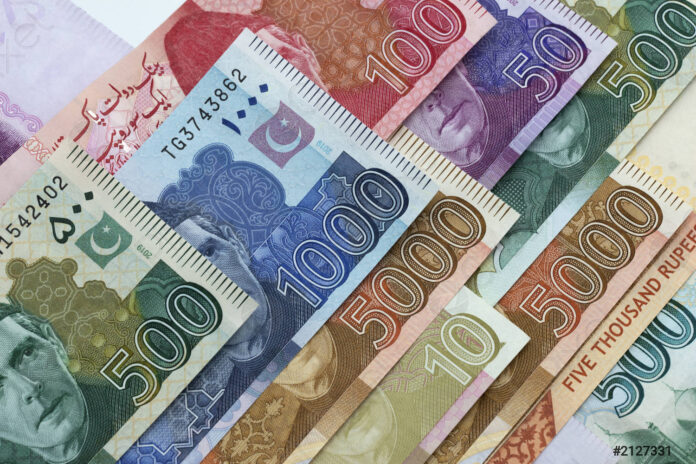 The Pakistani currency has dropped to a record low of Rs. 264 during intra-day trading, a depreciation of Rs8.57 as the exchange companies removed the limit on the dollar-rupee rate. It is pertinent to mention here it is the second consecutive intraday drop as the Pakistani rupee witnessed historic depreciation against the US dollar on Thursday, closing at 255.43 against US dollar, a depreciation of 9.61%. Fahad Rauf, head of research at Ismail Iqbal Securities' said; "It was the largest single-day decline in both absolute and percentage terms since the introduction of the new exchange rate system in 1999."
Pakistani Rupee Under Darnomics
In the open market, the Pakistani rupee plunged to a record low of Rs 255.43 against the dollar on Thursday, sliding Rs 24.54 from Wednesday's close. The declining performance of the rupee has raised many questions about the capabilities of the foreign minister, who was hailed as a perfect fit, by the ruling party, for Pakistan's economy. Experts believe that the rupee is bound to see significant depreciation as Pakistan moves to meet the conditions of the IMF to revive its bailout program.
The former foreign minister, Miftah Ismail, blamed Dar for the situation, saying, "He had initially thought that he could either run the affairs without IMF or that a different agreement could be reached by threatening the IMF." Talking about the current situation, he said, "Ishaq Dar tried but [his policies] caused immense damage to the country. Now, the result is in front of us." Miftah responded to Dar's criticism by saying; "He publicly criticised me and raised questions over my competence. Hence it is my right to respond to him."
IMF Announces Pakistan Visit
The IMF has scheduled a visit to Islamabad next week as the country implements a market-based exchange rate, bringing the biggest single-day rupee decline. IMF Resident Representative in Pakistan Esther Perez Ruiz said that the mission would focus on policies to restore domestic and external sustainability, including strengthening the fiscal position with durable and high-quality measures while supporting the vulnerable and those affected by the floods.
Also read: IMF Seeks Pakistan's Budgetary Position Ahead of Talks