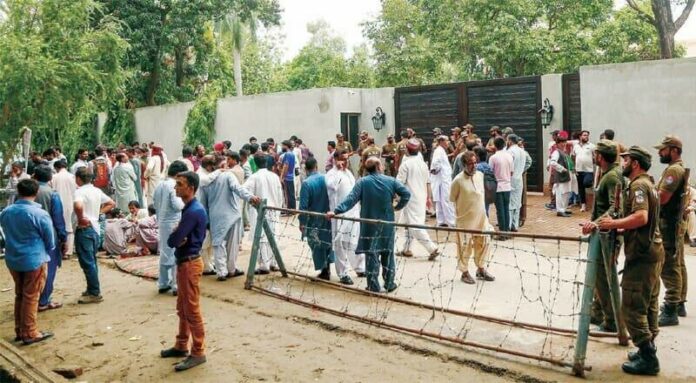 Punjab Caretaker Information Minister Amir Mir said that 30 to 40 terrorists who attacked military installations in the country are taking refuge in Imran Khan's Zaman Park residence. "30 to 40 terrorists who attacked army installations including Jinnah House are present in Zaman Park," Punjab Caretaker Information Minister Aamir Mir said.
Police Surrounded the Former Prime Minister's Zaman Park Residence
Earlier, Imran Khan tweeted about a possible arrest attempt saying that the police has again surrounded his house. Khan also condemned the illegal arrests of his party members by the government. He said; "I strongly condemn the illegal arrests and abduction of our workers and leaders. Our Vice Chairman Shah Mehmood Qureshi and Secy General Asad Umar have also been incarcerated for more than a week now. Also, despite court orders journalist Imran Riaz Khan has not been presented in court and there are confirmed reports of torture against him."
Probably my last tweet before my next arrest .
Police has surrounded my house.https://t.co/jsGck6uFRj

— Imran Khan (@ImranKhanPTI) May 17, 2023
The minister stressed that the government of Punjab had adopted a "zero tolerance policy" for planners, facilitators, and perpetrators of violence. He said that the federal government, military leadership, and the Punjab government have decided to punish the attackers. The minister also claimed that the agencies have confirmed the presence of the terrorists in Zaman Park through geo-fencing.
PTI's Response to the Allegations
Taimur Khan Jhagra, a politician belonging to Khan's Pakistan Tehreek-e-Insaf said that the allegation that Khan is hiding riot suspects is only going to increase the political temperature and it is very dangerous. "It is very rich of this caretaker government, which is in power only to hold elections, not even do their constitutional duty. They are leading a crackdown of a sort that has never before been seen in the country," he said.
Also read: Global Leaders Across the World React to the Assassination Attempt on Imran Khan