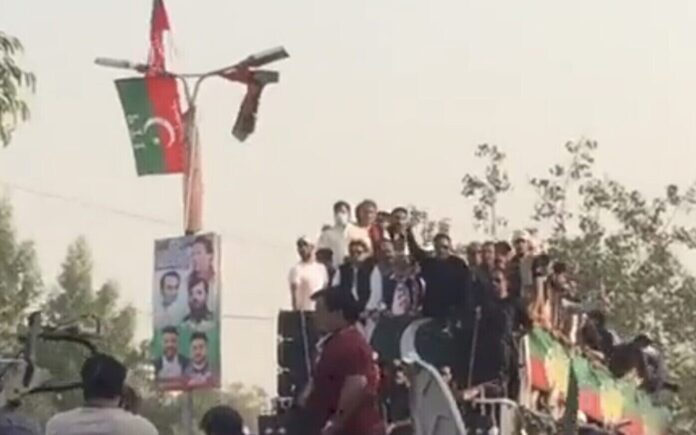 Prime Minister, Imran Khan, has survived a gun attack while leading the Pakistan Tehreek-e-Insaf's 'Haqeeqi Azadi March' in Wazirabad. As the convoy entered Gujranwala's city, Wazirabad, a gunman opened fire on his vehicle, due to which the ousted PM received a bullet in his leg while his other allies were also injured.
The moment when firing on Imran Khan#PakCivilWar #ImranKhan #Firing #imrankhaninjured #imrankhanPTI pic.twitter.com/3sU9HlPYe9

— Mohammed Nayeem ?? (@PMN967787) November 3, 2022
Haqeeqi Azadi March: How Imran Khan Escaped the Assassination Attempt?
The attacker was immediately arrested owing to the exemplary heroics of a PTI worker named 'Ibtisam' who had the guts to apprehend the shooter who attempted to harm Imran Khan. The statement of Imran Khan's shooter was later released by the police, who confessed to taking a shot at Khan's life. He said, "I could not stand it. I tried my best to kill Khan and only Khan and not anyone else because they were violating the sanctity of Azaan by playing loud music any my conscience could not deal with it and I took action."
The shooter in custody of Punjab police saying: I wanted to kill Imran Khan because he is misleading the people. Also says, "they were playing music while it was time for azaan." pic.twitter.com/Tp143qbfja

— Naila Inayat (@nailainayat) November 3, 2022
Statement of Pakistani Hero "???????* who caught the shooter during an assassination attempt on Imran Khan ?!

"The Real Hero of the Pakistani Nation"#ImranKhan | #Wazirabad | #Firing#عمران_خان_ہماری_ریڈ_لائن_ہے pic.twitter.com/xEtEaWuzF1

— Malik Shoujaat ?? (@Malok_Shoujaat) November 3, 2022
Meanwhile, Ibtisam, who pinned down the shooter, said that the pistol was automatic and set to burst mode, so the shooting did not stop until the clip was empty. Apart from Imran Khan, Faisal Javed sustained bullet wounds to his face; Zahid Khan was hit by bullets in his right arm and right leg, while Liaqat and Areeb survived bullet injuries to their abdomens.
Also read: Audio Leak Row: New Clip Exposes Imran Khan's Stance on 'Horse Trading'
World Leaders Reacted to the Incident
World leaders have issued a message of support condemning the incident. The PM of Canada, Justin Trudeau, wrote; 'I strongly condemn the incident. It has no place in politics.' PM Shehbaz wrote, 'I condemn the incident of firing on PTI Chairman Imran Khan in the strongest words.' The foreign ministry of Saudia Arabia and the US state secretary also released statements condemning the incident.
The attack on @ImranKhanPTI and his supporters is completely unacceptable, and I strongly condemn this violence. It has no place in politics, in any democracy, or in our society. I'm wishing a speedy recovery to Imran and all who were injured today.

— Justin Trudeau (@JustinTrudeau) November 3, 2022
I condemn the incident of firing on PTI Chairman Imran Khan in the strongest words. I have directed Interior Minister for an immediate report on the incident.

I pray for the recovery and health of PTI chairman & other injured people. 1/2

— Shehbaz Sharif (@CMShehbaz) November 3, 2022
#Statement | The Ministry of Foreign Affairs expresses the Kingdom of Saudi Arabia's strong condemnation and denunciation of the attempted assassination of Former #Pakistan Prime Minister Imran Khan. pic.twitter.com/uoOUzRP8yi

— Foreign Ministry ?? (@KSAmofaEN) November 3, 2022
The U.S. strongly condemns the shooting of @ImranKhanPTI at a political rally. We wish him and all others injured a quick recovery, and we offer condolences to the family of the individual who was killed. All parties should remain peaceful. Violence has no place in politics.

— Secretary Antony Blinken (@SecBlinken) November 3, 2022