On Tuesday, the Election Commission of Pakistan (ECP) announced its verdict on the prohibited funding case against the Pakistan Tehreek-e-Insaf (PTI). A three-member bench directed by Chief Election Commissioner Sikandar Sultan Raja announced the judgment. In its verdict, the ECP said that PTI did certainly acquire prohibited funds and kept 13 bank accounts hidden.
PTI's Senior Management is Involved in Managing the Prohibited Funds, Claims ECP
"The data obtained from SBP reveals that all the 13 accounts disowned by PTI were opened and operated by the senior PTI management and leadership at the Central and Provincial levels. In this regard, it is further added that PTI failed to mention and disclose three accounts which were also being operated by the senior leadership of the party," the verdict read against PTI's funding.
Moreover, the ECP found that PTI's funding was taken from America, Australia, Canada, and the UAE. As per the verdict, PTI "knowingly and willfully" received funding from Wootton Cricket Limited, operated by business tycoon Arif Naqvi. The party also received donations through PTI Canada Corporation and PTI UK Public Limited Company, the verdict read. The ECP also issued a show-cause notice to PTI. The commission also said that PTI chief Imran Khan had submitted a "mis-declaration" with the commission.
Donations Soared Up on PTI's Website After ECP Declared PTI's Funding Prohibited 
Furthermore, after the announcement of the said verdict against the alleged prohibited funds, the donations inflows soared up on PTI's website in support of the former prime minister. 
After ECP's Verdict calling PTI's Donation Prohibited, inflows of Donation on PTI's Donation Site Soared Up! #Foreignfundingcase #ISPR #HelicopterCrash #Lasbela pic.twitter.com/PxaGwmWeUR

— Pakistani Bot (@_doctorspeaks_) August 2, 2022
One supporter from overseas donated 100 pounds amount to PTI and stated in the caption 'Ghair Mamnooa Funding' to mock the verdict and support the party.  
After ECP Verdict, 100 Pounds Donation sent on PTI's Website with a Caption 'Ghair Mamnooa Funding' 😂#foreignfundingcase #ISPR #HelicopterCrash #Lasbela pic.twitter.com/lTImNQdfFK

— Pakistani Bot (@_doctorspeaks_) August 2, 2022
Similarly, several PTI supporters are pouring donations from all over the world in support of Imran Khan.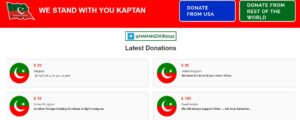 Read more: Imran Khan's Official Instagram Account Gets Briefly Hacked