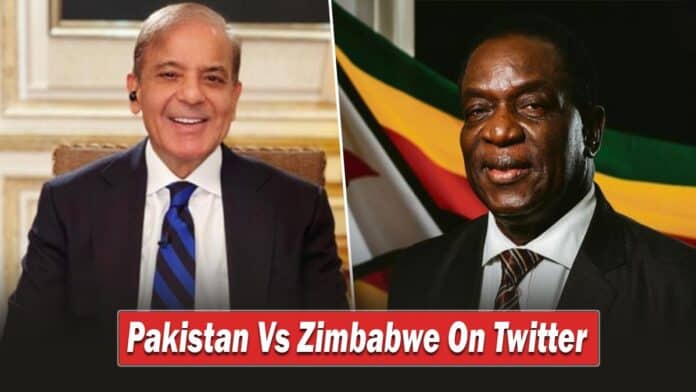 The fake Mr. Bean meme is going viral on the internet after the Craig Ervine-led Zimbabwean side stunned Babar Azam's men by 1 run at the Sydney Cricket Ground. The Zimbabwean president, Emmerson Dambudzo Mnangagwa, took a dig at Pakistan by saying; "Next time, send the real Mr. Bean," citing an incident from 2016 when a fake Mr. Bean traveled to Zimbabwe disguising himself as the real one.
What a win for Zimbabwe! Congratulations to the Chevrons.

Next time, send the real Mr Bean…#PakvsZim ??

— President of Zimbabwe (@edmnangagwa) October 27, 2022
PM Shehbaz Joined the Fake Mr. Bean Bandwagon
The PM of Pakistan, Shehbaz Sharif, quickly responded to his Zimbabwean counterpart. He said, "We may not have the real Mr. Bean, but we have real cricketing spirit .. and we Pakistanis have a funny habit of bouncing back." The Pakistani Twitter users called it a 'Surgical Strike by the PM.' PM Shehbaz also congratulated the Zimbabwean team on a stunning victory.
We may not have the real Mr Bean, but we have real cricketing spirit .. and we Pakistanis have a funny habit of bouncing back 🙂

Mr President: Congratulations. Your team played really well today. ? https://t.co/oKhzEvU972

— Shehbaz Sharif (@CMShehbaz) October 27, 2022
Ahead of the game, Pakistan Cricket Board uploaded a post on its official Twitter account of the team's players' practicing when a Zimbabwean user revealed the incident, saying; "As Zimbabweans, we won't forgive you…you once gave us that Fraud Pak Bean instead of Mr. Bean Rowan ..we will settle the matter tomorrow just pray the rains will save you."
As Zimbabweans we wont forgive you…you once gave us that Fraud Pak Bean instead of Mr Bean Rowan ..we will settle the matter tommorow just pray the rains will save you…#ZIMVSPAK

— Ngugi Chasura (@mhanduwe0718061) October 25, 2022
Zimbabwe Beat Pakistan by 1 Run
One of the biggest upsets in the World Cup game was yesterday when Zimbabwe Beat Pakistan by 1 run and almost pushed them out of the tournament. Pakistan's bowling lineup restricted the Zimbabwean team to just 130/8. However, the Zimbabwean bowlers produced a remarkable performance and powered their side to victory. The man of the match, Sikandar Raza, said, "Since I've been part of Zimbabwe cricket, I would rate that as the best victory we've had. There's no better stage. This is (the) World Cup, the biggest stage of all."