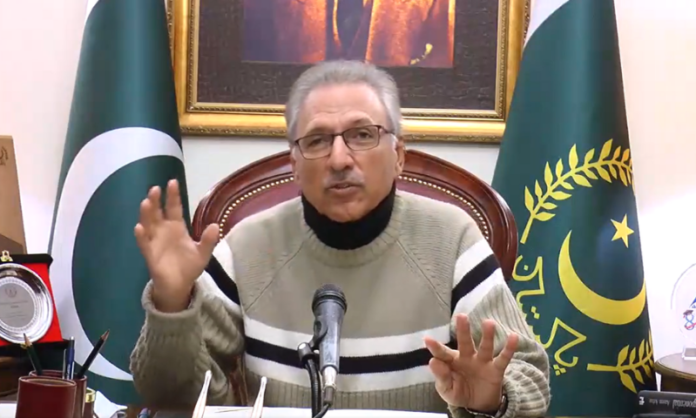 On Sunday, President Dr. Arif Alvi advised the young generation of Pakistan to gain maximum benefits of the IT-related world market that may assist in the widespread growth and prosperity of Pakistan. The president spoke these encouraging words while addressing an international webinar titled 'current entrepreneurship aspects in the digital world' organized by the Joint Cultural Society for Communities Collaboration.
 IT-related World Market is Offering Prospects for Progress and Prosperity
"There are billions of opportunities for developing the smart apps. Pakistan is at the jumping board. Pakistan is now changing. The world is the market for IT [information technology] gadgets," he stated. The president further said: "Youths can avail the existing and innovative opportunities in the realm of information and technology and access the ever-expanding global IT-related world market, possessing huge prospects for progress and prosperity." 
Read more: President Alvi Launches Pakistan's First-Ever National Cyber Security Academy
Dr. Arif Alvi further continued that huge, exponential, and quantum changes were taking place in the information and technological field throughout the world which indicated promising opportunities for the Pakistani youth. The webinar was organized to consult the visions and trends in the digital world and the role of youths considering the latest changes in artificial intelligence. People from different parts of the world attended the webinar. 
Mega Revolutions are Taking in the Global IT Sector
Dr. Alvi said mega revolutions were taking place in four key regions of the IT-related world market: first in computing, processing of data and study of the artificial intelligence; second, in the energy sector, and these were connected with biology; and finally in the 3D manufacturing, including virtual reality, blockchain, internet data, mobile computing, internet, and social networking.
In addition to this, the president said, the Higher Education Commission was also proposing free courses to help the youth to cash on the IT-related world market. He encouraged the people to learn develop software and smart apps as the global virtual capital or the brick-and-mortar businesses were also in search of funding in startups and smart apps developers. 
Source: Dawn