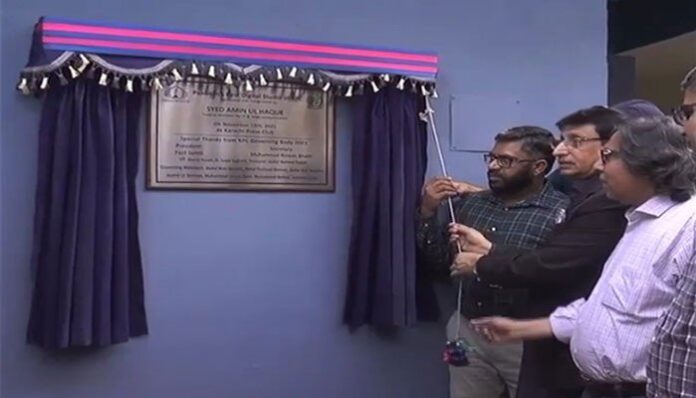 The Ministry of Information Technology and Telecommunication (MoITT) has launched Pakistan's first digital studio for social and digital media professionals at Karachi Press Club (KPC). The Federal Minister for IT & Telecommunication Syed Aminul Haque formally launched Pakistan's first free digital studio in a ceremony at the KPC on Saturday. Speaking on the occasion, Haque stated that Rs 31 billion will be invested in the construction of an IT Park in Karachi, that is predicted to employ thousands of talented individuals in the IT industry.
Read more: IT Ministry to Establish Center of Excellence to Promote Animation Industry
Pakistan's first digital studio to serve as a platform for journalistic operations
Syed Aminul Haque said that his political party has chosen the KPC to establish the first-ever facility in the country keeping in view the fact that the press club is an institution aimed at facilitating journalists and news media persons based in Karachi. The IT minister further added; "I, in my capacity as the IT minister, have done whatever I can to establish this digital studio because these journalists belong to me. I hope that the newly established studio will go a long way in facilitating the media persons in their professional duties."
Talking about the connectivity issues, Aminul Haque said that there's a huge need for technology and high-speed internet and mobile service in Sindh. To tackle the issue, the MoITT working on three projects that will see a 1.905 km-long fiber optical cable, that will facilitate 230 union councils. Also, a sum of over Rs5 billion had been set aside for the project from which a population of 7.5 million would benefit.
What else does the facility contain?
Pakistan's first free digital studio is a fully air-conditioned sound-proof facility comprising of professional lighting, a set, a green screen for chroma recordings, audio recording facilities, and high-speed internet for post-production work. KPC Secretary Muhammad Rizwan Bhatti said that the new studio facility would be available to journalists and remain open to all freelancers who used digital technology.
Source: The News