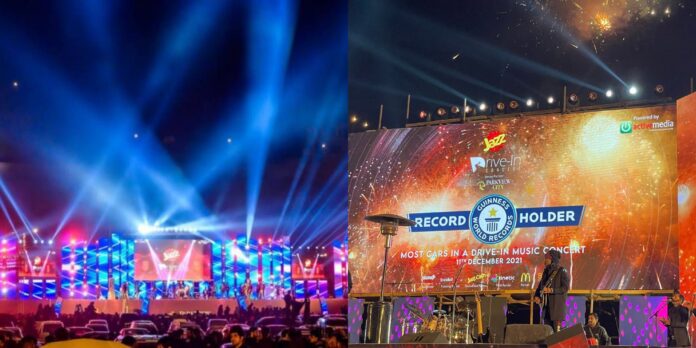 Pakistan's first drive-in concert set up by Jazz claimed a new Guinness World Record title for most cars in a drive-in concert with over 1,000 cars gathered for the event. The concert was organized in Islamabad by Jazz and Active Media at Park View City, featuring performances by Atif Aslam, Ali Azmat, and Bilal Khan.
Read more: JazzCash launched the country's first-ever digital account for teenagers
One-of-its-kind drive-in concert sets a Guinness World Record
In order to set the world record, the drive-in concert must have more than 1000 cars at the venue for the entire duration of the concert. Tickets were sold for $1-5 dollars. Each vehicle was given a specific parking spot in rows labeled alphabetically; cameras were installed across the venue at locations suggested by the Guinness World Records' supervisors, which allowed them to count the cars in attendance at the event periodically. Jazz Chief Commercial Officer Asif Aziz said, "Creating a new world record is a wonderful achievement for us all, and it's heartening to see the enthusiasm shown by the residents of the twin cities to be part of this momentous occasion. As the nation's lifestyle brand, the idea behind Jazz's series of drive-in events was to provide Pakistanis alternate entertainment avenues in the new normal."
The drive-in concert featured one of the grandest fireworks shows ever witnessed in the country. As far as the performances go, Bilal Khan sang Larho Mujhey and Mai Doob Rha, Ali Azmat his popular songs Damadam Mast Qalandar, Garaj Baras, Sayonee, Papu Yar Tang Na Kar, Ye Jism Hai Tu Kya, and Ishq Bhi Kia Ray Mula, and Atif Aslam Woh Lamhe, Adat, Tera Honey Laga O, Jal Pari, Dil Dya Gala and Rafta Rafta.
The Guinness World Record
We did it! Pakistan's first drive-in concert just set the Guinness World Record – Most cars in a drive-in music concert.@jazzpk thanks the twin cities for participating in this momentous occasion.#DunyaKoBataaDia #JazzDriveInConcert#GuinnessWorldRecords https://t.co/QoWJnfvzi1
— Aamir Hafeez Ibrahim (@aamir_ibrahim01) December 12, 2021
According to the organizers, they approached Guinness World Records to set the record. The GWR created a new category and set a minimum threshold of 1,000 cars. Ultimately, more than 1,500 vehicles arrived at the concert venue. GWR official adjudicator Jack Brockbank officially announced the world record holder by the end of the event; "I can now confirm that as you have surpassed that minimum, it gives me great pleasure to officially recognize a new Guinness World Records title."
Source: Dawn