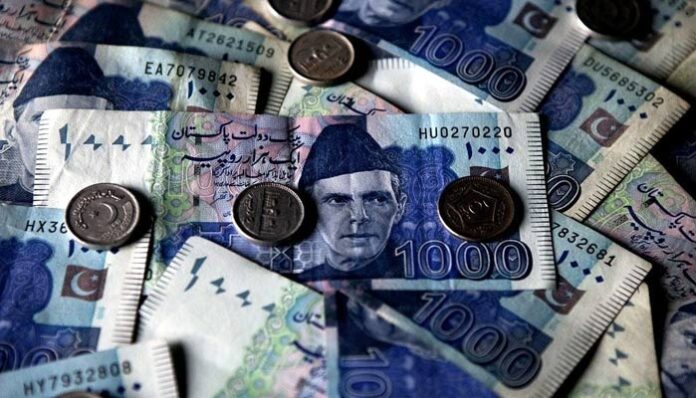 The Pakistani rupee is still taking dips against the US dollar, according to the losses reported in the interbank market. The local currency lost Rs. 1.48 against the greenback at the close of the session today. It devalued by 0.80 percent against the US dollar and closed at Rs. 185.92 today after losing Rs. 1.90 and closing at Rs. 184.44 in the interbank market on Tuesday, 19 April. The domestic currency crashed at an intra-day low of Rs. 185.95 against the US dollar during today's open market session.
#INTERBANK MARKET….

Rupee weakness is due to #ECONOMIC #REASONS, as #FxReservs has plunged. Delay in #Chinese $2.4bn funding after its maturity & widening of trade gap is hurting too. Talks with #IMF is adding pressure on #PKR. Holding of EXPORT PROCEEDS is adding to the woes.

— Asad Rizvi ?? (@asadcmka) April 19, 2022
Pakistani Government Will Have to Make Difficult Decisions for the Revival of the Economy 
Furthermore, the Pakistani rupee collapsed against the dollar today as markets continue to remain under pressure from talks between Pakistan and the International Monetary Fund (IMF). It is predicted that the Pakistani government will have to make some difficult and disfavored decisions for the revival of the economy and the loan program. In terms of global factors influencing the exchange rate at home, oil prices recovered from sharp losses in the previous session as concerns about tighter supplies from Russia and Libya raised concerns, while industry data observed a decline in U.S. crude stocks in the past week.
Talks With IMF Are Also Pushing Pakistani Rupee Towards Decline
On the current fiasco on the country's currency, the local currency's performance earlier during the day, the former Treasury Head of Chase Manhattan Bank, Asad Rizvi stated that the rupee weakness is due to economic reasons, as forex reserves have massively declined. Moreover, the delay in the Chinese $2.4 billion funding after its maturity and the widening of the trade deficit is hurting as well. Moreover, current talks with IMF are adding pressure on the Pakistani rupee, and unfortunately, "holding of export proceeds is adding to the woes", he added.
Read more: Pakistani Rupee Plummets to a Record Low of 188.18 Against USD