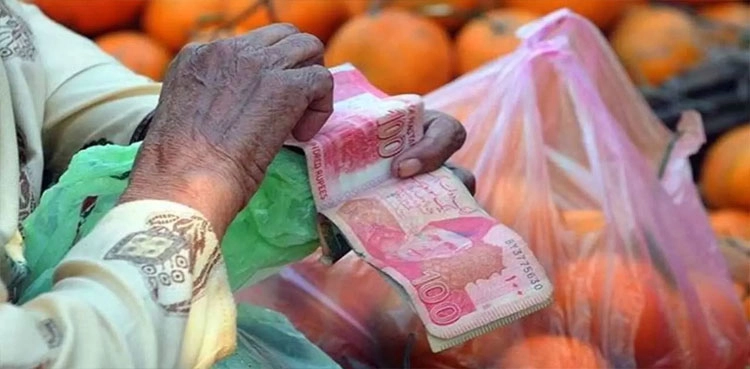 The weekly inflation in Pakistan, as gauged by the Sensitive Price Indicator (SPI), displayed a notable improvement. According to the latest report from the Pakistan Bureau of Statistics (PBS), during the week ending on October 19, the SPI decreased by 0.33 percent. The decrease in inflation is a source of relief for consumers who have been grappling with the rising cost of essential goods and services.
Pakistan Weekly Inflation Signals Sign of Relief
The data released by the Pakistan Bureau of Statistics indicates that the Combined Index stood at 277.11 during the specified week, in contrast to 278.04 on October 19, 2023. Comparatively, the index recorded a figure of 213.74 one year earlier, on October 27, 2022.
Among the 51 items that were monitored, the average prices of 14 items increased, 17 items witnessed a decrease, and 20 items remained relatively stable. Notable decreases were observed in the prices of essentials such as Chicken (10.19%), Onions (4.4%), Rice IRRI-6/9 (3.84%), Bananas (3.64%), Gur (3.4%), Pulse Masoor (2.36%), Sugar (2.22%), and Mustard Oil (2.17%). On the flip side, certain items experienced an increase in prices, including Tomatoes (20.81%), Potatoes (3.33%), Eggs (1.63%), Salt Powdered (0.91%), Garlic (0.77%), Tea Prepared (0.67%), Bread Plain (0.56%), and Mutton (0.28%).
Year-on-Year Perspective
When examining the year-on-year trends, it is evident that Pakistan's inflation has been a matter of concern. The year-on-year inflation rate stands at 29.65%, with significant price increases observed in various categories, including Gas Charges for Q1 (108.38%), Cigarettes (94.46%), Chilies Powder (84.11%), Rice Basmati Broken (78.51%), Wheat Flour (77.49%), Sugar (63.22%), Rice Irri-6/9 (62.83%), Gents Sponge Chappal (58.05%), Gur (57.73%), and Salt Powdered (54.84%). In contrast, certain items experienced price decreases, including Tomatoes (31.90%), Onions (24.88%), Pulse Gram (5.82%), Mustard Oil (4.16%), and Vegetable Ghee 1 Kg (0.92%).
Also read: Government Slashes Petrol Price by Rs40, HSD by Rs15 to Ease Inflationary Pressures