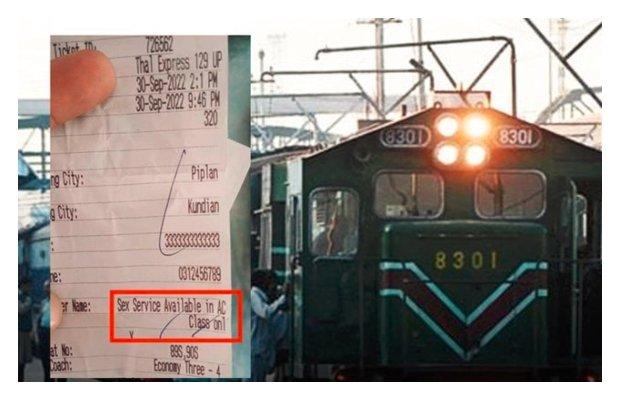 Days after the audio leaks of Pakistani politicians and bureaucrats, hackers have now taken over the Pakistan Railway's ticketing system and posted altered texts offering adult services in upscale cabins. The message reads; "Sex service available in AC class."
Pakistan Railway's Ticketing System Restored
The news regarding the hacking of Pakistan Railway's ticketing system came to light when a passenger took the train from Kot Adu to Wah and he noticed the altered texts on the ticket talking about the availability of adult services in the elite cabin. The passenger took the matter with the booking officers and apprised the management about the issue.
ٹرین میں دوران سفر "جنسی سہولیات سے لطف اندوز ہوں" ایسا لکھا ہے مسافروں کو ملنے والے ٹرین ٹکٹوں پر یہ ٹرین سروس پنجاب کے شہروں میانوالی، کندیاں، پپلاں وغیرہ میں چل رہی ہے۔
For more detail must read @MumtaazAwan today's latest?https://t.co/9MGPxrnX8g pic.twitter.com/0eEn54ytZx

— Malik Ramzan Isra (@MalikRamzanIsra) October 1, 2022
Later the officials wrote an application to DSP Railway Rawalpindi, claiming that their software was hacked. Moreover, they also urged the officials to lodge a case against the hackers as it was uselessly targeting the reputation of the firm. Later, a renowned Journalist, Hamid Mir, confirmed the hacking reports and said that the system has now been restored. He further added that the ticketing system of Thal Expressway was running under a private contractor that got hacked.
جناب اس ٹکٹ پر جن سہولیات کا ذکر ہے اسکی وجہ یہ ہے کہ کل تھل ایکسپریس کا ٹکٹنگ سسٹم ہیک ہو گیا تھا یہ سسٹم ایک پرائیویٹ کنٹریکٹر کے پاس ہے اس نے ریلوے اور ایف آئی اے کو تحریری طور پر شکائت کی ہے کہ اسکا سسٹم ہیک کر لیاگیا تھا لیکن اب سسٹم کو ہیکر کے شکنجے سے آزاد کروا لیا گیا ہے https://t.co/mJBHnXCWL6 pic.twitter.com/y1pLaci0ua

— Hamid Mir (@HamidMirPAK) October 1, 2022
Data of Pakistani Websites Available on Dark Web
Cyber experts have said that the data of all government and private websites that had been hacked during the last year was available on the dark web. They further added that the cybersecurity in Pakistan is not up to the mark, adding that the hackers use digital currencies including Bitcoin for transactions. Director Forensic Research and Services Centre Lahore Garrison University Kokab Zuberi said; "The dark web is part of the internet that requires special software to access. It is a world of crime which is out of reach of even the law enforcement agencies."
Also read: Massive Security Breach: Hours Long Audio Clip Leaked From PM's Office; Up for Grabs on Dark Web