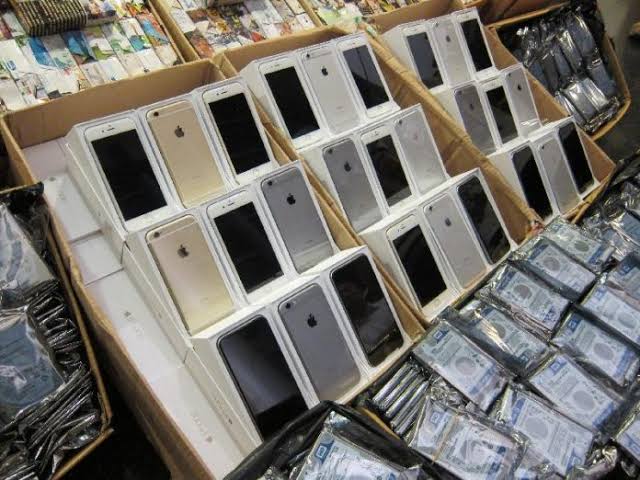 The Pakistani customs intercepted a major smuggling attempt at the Islamabad International Airport (IIA), where the officials recovered the smuggled iPhones and MacBooks worth over Rs. 50 million. The customs officers have arrested three smugglers who arrived with the smuggled iPhones and MacBooks at Islamabad airport via PIA flight PK262.
Custom Officers Detained Smuggled iPhones, MacBooks, and other Devices
As per details, the smugglers boarded a PIA flight from Abu Dhabi carrying 106 iPhones, 12 MacBooks, and 37 laptops. Other than that, the smugglers were also carrying Apple Watches, AirPods, and iPads. Beenish Rasheed, an assistant customs collector, and her team acted promptly as they developed a suspicion. The smugglers are taken into custody, and further investigations are underway.
A Similar Smuggling Attempt
A few days back, Pakistani customs foiled a similar smuggling attempt where the accused were caught smuggling cellular phones worth millions of rupees. The officers deployed at the International Departure were busy checking passengers when the staff received credible information about a bid to smuggle cell phones. Upon intensifying the screening process, they detained a passenger who landed at the Islamabad airport from Qatar, where the officials found more than 73 smartphones worth over Rs10 million.
Earlier, the cabin crew members of a London-Lahore PIA flight, including its captain, were detained by the customs authorities for allegedly carrying unlawfully 24 iPhones worth about Rs2.5 million and also foreign currency. A senior PIA official said, "As soon as the crew members reported in the lounge after landing the plane, the authorities searched them. But they did not find iPhones. Later, they learned that the accused had handed over the phones to a passenger." A PIA spokesman informed that an inquiry had been launched. "Since it is a serious matter, an inquiry is underway. We will be able to tell who is responsible for the incident after the inquiry," he added.
Also read: Pakistan Customs impose increased taxes on the import of used computers