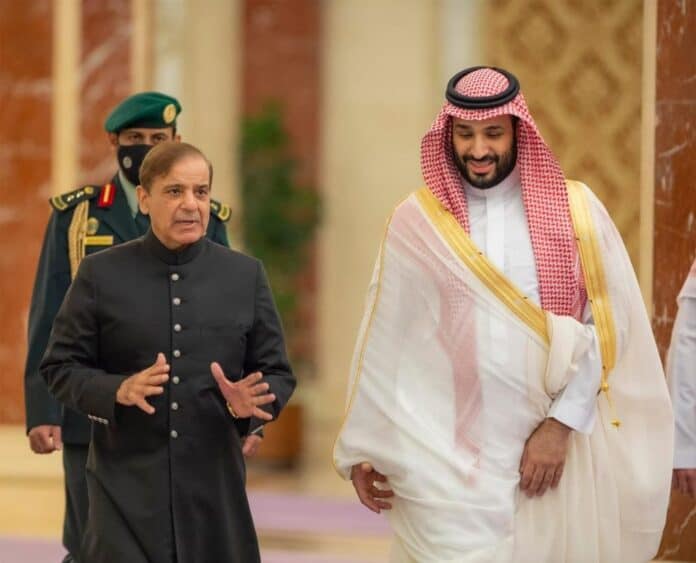 Saudi Arabia has discussed with Pakistan about extending the term on its $3 billion deposit in Pakistan's central bank, according to a joint statement published at the conclusion of Prime Minister Shehbaz Sharif's three-day visit to the Kingdom. Back in 2021's October, Saudi Arabia announced to supply Pakistan $3 billion deposit with the State Bank to address its balance-of-payments crisis.
Saudi Arabia's $3 Billion Deposit Will Stabilize Islamabad's Foreign Exchange Reserves
Moreover, Saudi Arabia has also committed a one-year deferred payment facility for the import of oil, worth up to another $1.2 billion. The $3 billion deposit under Riyadh's bailout package to facilitate Islamabad's foreign exchange reserves will result in further augmenting the economic ties between the two countries. Prior to PM Shehbaz's visit to the Kingdom, the Ministry of Finance officeholders had stated that Pakistan may seek a $7.4 billion monetary assistance package from Saudi Arabia in the form of cash deposits and oil on deferred payments, including rollover of the current $4.2 billion facilities that are expiring by the end of this year. 
Moreover, PM Shehbaz was received by Crown Prince Mohammed bin Salman bin Abdulaziz Al Saud, upon his arrival at the Royal Palace of Saudi Arabia. An official meeting was hosted between both sides, during which they examined the historical ties between the two nations and the close collaboration in various fields, and further discussed methods to intensify relations in all areas.
The Kingdom Has Also Decided to Finance Exports of Crude Oil Products 
"The two sides stressed the importance of cooperation between the two countries in respect of the opportunities available through the economic transformation programs under the Kingdom's Vision 2030 and benefitting from the distinguished Pakistani expertise and capabilities in several sectors to achieve the mutual benefit of the two countries' economies", read the official statement. Pakistan also accepted Saudi Arabia's decision to extend the agreement to finance exports of crude oil products and oil by-products.
The text of the Joint Statement issued at the conclusion of PM Shehbaz Sharif's 3-day visit to the Kingdom of Saudi Arabia. pic.twitter.com/gq9UoLzkUj

— PML(N) (@pmln_org) May 1, 2022
Read more: New Government Likely to Revert its Decision of Six-Day Workweek Soon