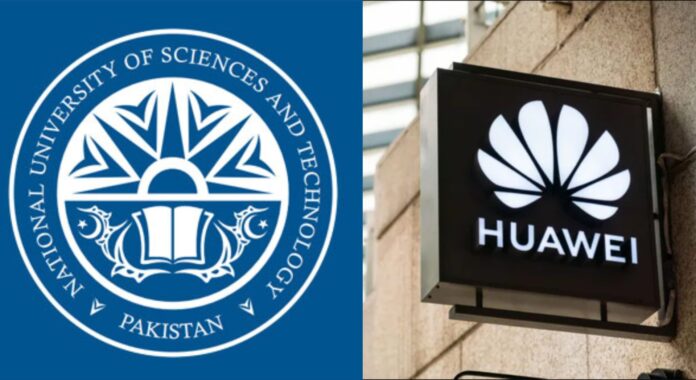 The National University of Sciences and Technology (NUST) has signed a Memorandum of Understanding (MoU) with Huawei Pakistan to work together for the growth of talent in Pakistan vis-a-vis Artificial Intelligence (AI). The contract was observed at a ceremony hosted at the NUST Islamabad Campus on May 7, 2021. 
The ceremony was graced by the presence of Engr Javed Mahmood Bukhari, Rector NUST; Mr. Spacelee, Huawei Middle East Vice President; Mr. Wuhan, Huawei Pakistan Deputy CEO; and Mr. Kyle Zhang, Vice President of Huawei EBG Service.
Furthermore, the memorandum reaffirms a present five-year strong association between both entities, according to the statement issued by the Chinese manufacturer. Under the MoU, Huawei will be sharing recent AI studies with the NUST faculty and pupils, so that they may benefit from the most reliable and high-level solutions to enhance the value of their educational programs. 
Read more: NUST stands at 214th position in QS World University Rankings by Subject 2021
The newest collaboration further traverses the opportunities to combine Huawei's AI HCIA/HCIP course contents into AI-associated courses offered by NUST and, in so doing, promote ICT talent in Pakistan.
On the occasion, Rector Javed Mahmood stated, "I firmly believe that from today onwards we will take our relationship to the next level. This bilateral relationship between Huawei and NUST is characterized by feelings of mutual interest, respect, and goodwill towards each other."
Read more: Solar Power generation of 1MW capacity installed by NUST
Moreover, the Vice President of Huawei Middle East, Spacelee the occurrence said that Huawei attributes great attention to technology transfer and ICT expertise improvement in Pakistan, these programs cover Seeds for the Future, AI training, and 51 Huawei ICT Academies that have been organized throughout Pakistan and have certified more than 10,000 people.
He further added that the company will share its most high-grade methods and knowledge with NUST, providing AI knowledge transfer so that the students of NUST have the chance to connect with the industry at an initial stage. Moreover, future collaboration in the fields of farsighted computing, cloud computing is further being planned.
Source: Mashable Pakistan