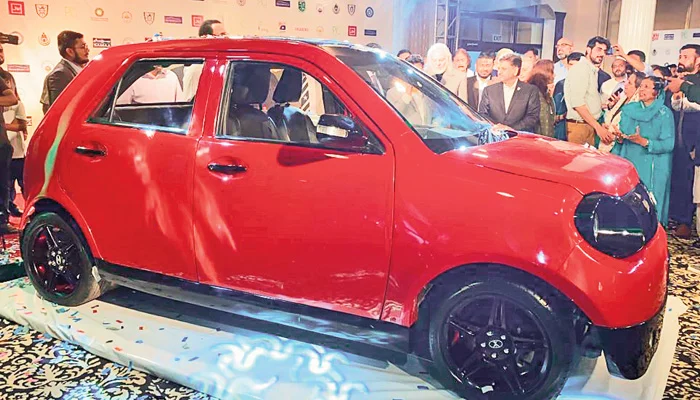 Pakistan's first electric car prototype, dubbed NUR-E 75, has been unveiled on the 75th Independence Day of Pakistan by Distinguished Innovation, Collaboration & Entrepreneurship (DICE) Foundation, a US-based non-profit organization run by expatriates Pakistanis. The car's battery capacity will be 35kWh and after charging, the vehicle will have enough power to run for 210km.
Essential Details Regarding NUR-E 75
According to Dr. Khurshid Qureshi, founder, and chairman of the DICE Foundation, the car has a peak power of 80kW or 108hp, and a battery capacity of 35kWh covering 210km with the air conditioner turned off. Moreover, the fully electric car has a maximum speed of 120km/h, a tire size of 16 inches, a ground clearance of 190mm, and a charging capacity of 220V in eight hours, with fast charging also available. He further added that the fully functional prototype, EV NUR-E 75, is ready for testing and regulatory approval, while work on the design of a rolling platform to be used for various vehicle segments is underway.
Dr. Qureshi said that by the time it is commercially produced, the car will have 60% locally manufactured parts, which will increase to 80% in the next few years. Regarding the pricing, he said that vehicles in the same segment, Honda-E, and Nissan Leaf, are priced at $40,000 and $35,000, respectively, but Nur-E 75 price will be much lower than those.
Read more: Karachi Gets a New Electric Car Charging Station in Saddar
Combating Climate Change
Dice Foundation, which designed and developed the prototype, said that cars will save a lot of fuel and help combat climate change and sustain economic prosperity. According to Dr. Qureshi, the car's production has three phases: the first was industrial design, production, and launch; in the second, production will be expanded to Sedan and SUV, small commercial trucks, and EV platform export; and in the third, the cars would be exported.