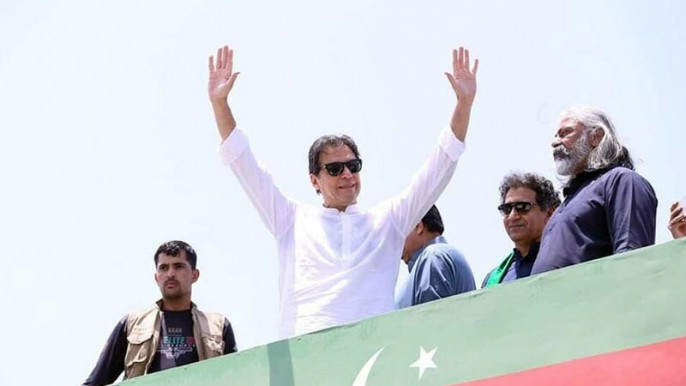 In the wake of PTI's Azadi Long March, the government has reportedly attempted to shut down internet services across the country, along with it there are instructions from the government for the bank staff to keep minimum cash in the Automated Teller Machines (ATMs). 
Twitteraties Are Furious At Government for Shutting Down Internet Service 
There have been several Twitter posts on the platform confirming the shutdown of internet services. People are outraged because of the supposed crackdown tactic of the government against PTI supporters in PTI's Azadi Long March.
Turning off the internet for a nation of 220M people is THE single worst thing a government can do.

Hasn't this country been looted enough by it's "leaders", for God's sake don't also push us into the stone ages!

— Tania Aidrus (@taidrus) May 25, 2022
Forcing International Companies like Transworld to shut down Internet across Pakistan is also a serious set back to country's international commitments & its connectivity with the world, this is total madness! Fascism in 21st century! Supreme Court should stop these criminals! https://t.co/lznLeFhFaj

— Moeed Pirzada (@MoeedNj) May 25, 2022
After more than 4500 raids in the homes of PTI workers, arrests and torture of peaceful workers, Gvt has now decided to shut down Internet.
They have totally lost it
#حقیقی_آزادی_مارچ pic.twitter.com/msq0mMLF0q

— Dr Arslan Khalid (@arslankhalid_m) May 25, 2022
This govt will dig its own grave, as it has tried to do since day 1. The last time I remember this (closure of internet) was done was in Indian Occupied Kashmir by Narendra Modi. That is Rana Sanaullah, Maryam Nawaz and Bilawal Bhutto's Purana Pakistan. pic.twitter.com/U8u7fZSzUp

— Taimur Khan Jhagra (@Jhagra) May 25, 2022
Bank Employees Are Instructed to Keep Minimum Cash at ATMs to Hinder PTI's Azadi Long March 
Furthermore, according to details, government and private bank employees have been warned under government pressure not to express their political affiliation on social media. According to the warning, no bank employee should participate in a sit-in or long march, no bank employee will get any leave for the next 2-3 days, if a bank employee wants to leave, he or she has to submit the proof in the form of a document. Bank employees have also been instructed to keep minimum cash at ATMs to hinder PTI's Azadi Long March.
Moreover, Imran Khan in PTI's Azadi Long March is heading to Islamabad from Khyber Pakhtunkhwa with a large caravan to demand the removal of the government and an immediate national election. He has vowed to hold the "biggest march" in the political history of Pakistan if the government does not agree to his demands. According to the latest update, Khan's caravan has entered Punjab after supporters removed barricades from the Attock bridge.
Read more: Government to Suspend Mobile Phone Services Across Punjab