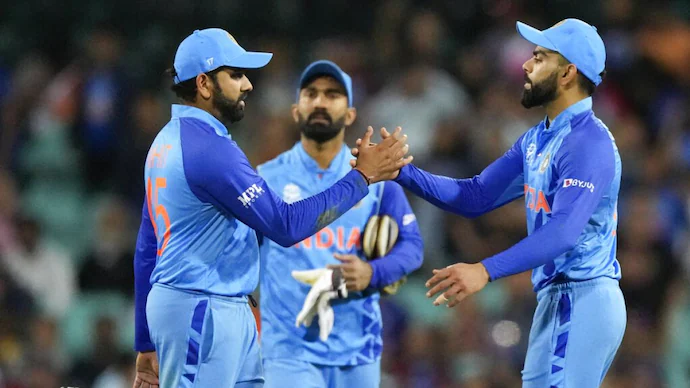 India's recent WT20 game against South Africa was important from Pakistan's viewpoint as India's win would keep their chances alive of advancing to the semi-final. But, losing early wickets against Temba Bavuma's South Africa at the Perth Stadium has angered the Pakistani cricket fans as they thought India never planned to win it and that they had put up an acting show because it is unusual for the Indian cricket team to perform this poor.
Netizens Trolled Indian Cricket Team
While Pakistanis were waiting for a miracle to go through the semi-final stage of the game, they put their bet on the Indian cricket team to make it happen for them, but the poor performance from the neighbors made Pakistanis believe that the players were just acting on the field and they actually never wanted to win the game. Virat Kohli, who is probably India's finest fielders, dropped a simple catch off Ravichandran Ashwin's bowling. Rohit then had the golden opportunity to correct Kohli's mistakes but his throw missed the stumps too.
View this post on Instagram
It must be noted that Bangladesh defeated Zimbabwe and Pakistan defeated the Netherlands in their matches, but the top-order Indian batting lineup collapsed against South Africa, which has almost tanked the hopes of Pakistani cricket fans. The tweets supporting India drastically turned into hate as a user said, "Bollywood has produced some of the best actors in the world. You can start by looking at the playing 11 of the Indian cricket team."
Bollywood has produced some of the best actors in the world. You can start by looking at the playing 11 of the Indian cricket team.

— Saad (@amjadsaad97) October 30, 2022
Shoaib Akhtar Blamed Team India
Pakistani pacer Shoaib Akhtar was left heartbroken over India's loss. In his latest YouTube video, he said that Indian batters could have scored 150 runs if they had batted patiently. He further said that Pakistan's chances are minimal, but he wished that somehow India come out victorious and we get a chance. He concluded the video by saying, "India was exposed against the South African fast bowling, but they aren't out of the contest because they have some easy games to come. But Pakistan is yet to face South Africa, which looks impossible. Let's see what happens. But I'm still backing my team, and I wish they come out of the situation."
Bhaiyo bahut jaldi main hain? pic.twitter.com/QVIf9Y4bj0

— Shoaib Akhtar (@shoaib100mph) October 30, 2022
Read more: BCCI Refuses to Send Indian Team to Pakistan for Asia Cup 2023