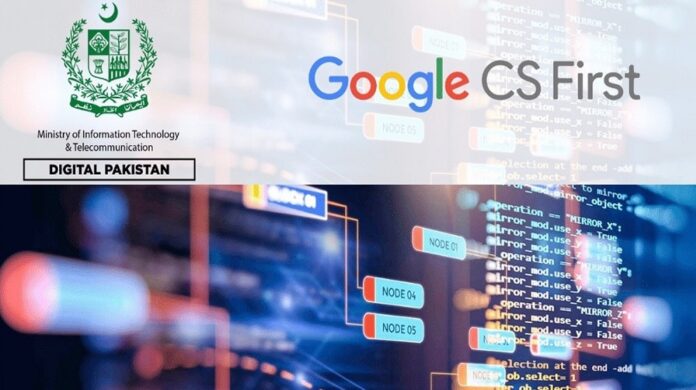 In recent news, the Ministry of Information Technology and Telecom (MoITT) in alliance with the Tech Valley, Telecom Foundation, and the Virtual University to extend the Google CS First Program to several provinces of Pakistan including the deferral region, Punjab, Sindh, Khyber-Pakhtunkhwa, and Balochistan due to its profound achievement.
Google CS First Program Aims to Help Underprivileged Children
The Google CS First Program was started with the intention of helping underprivileged youngsters learn how to code and make the internet a safer place for young talented minds. A special convention was hosted on the occasion at the Ministry of IT and Telecom, where all stakeholders gathered and regarded the success of phase 2 of the Google CS First Program.
Read more: IT Ministry Plans to Expand the National Incubation Centres to Accelerate Digitization
Furthermore, while speaking at the ceremony, Federal Minister for IT&T Syed Amin Ul Haque stated, "I believe this program has the potential to lay a good foundation for ICT Development in the country, as in 10-15 years' time, we will have young coders and programmers who will, by the Grace of Almighty Allah, be making good strides in the coding community and creating amazing applications and software."
He further continued that the IT Ministry of Pakistan is further making efforts for the advancement of the youth in a positive way as they are the tomorrow of Pakistan. The IT Minister also stressed that nearly 316 students and over 69 teachers have been instructed in the first two phases of the program.
Children Can Receive Mentorship from Experienced Trainers
Meanwhile, CEO of Tech Valley Pakistan Umar Farooq said, "We aim to create Google CS First coding clubs for kids in different schools of Pakistan where they can learn grass-root coding and receive mentorship from experienced trainers."
In addition to this, Tech Valley Pakistan is further preparing to organize a hackathon for children between the age of 9-14 where students will be able to formulate story-based interactive games from scratch. 
Source: Mashable