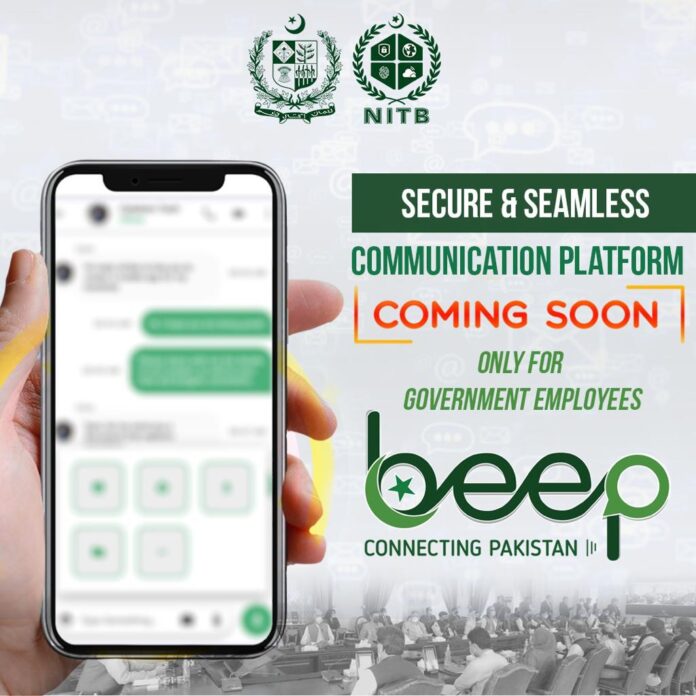 The Federal Information and Telecommunication Ministry on Monday announced the official commencement of the messaging application 'Beep'. The app is made compulsory to be used by all state officials once it is launched, however, it is still in its testing phase.
Syed Aminul Haque, the Minister for IT & Telecom, posted a series of tweets in this regard, in which he stated that the app has been developed and will be launched after it passes the testing phase. In the first stage, the said app will only entail the features of texting and voice calling, said the minister, continuing that the video call feature will be added to the app a few months later its launch.
Read more: IT Ministry inaugurates TechLeads portal to link overseas Pakistani experts with local industry
The minister further informed that efforts have been made to develop a safe application so the data of the state officials could not be endangered, adding that it is "secured and seamless" for all the government officials.
BEEP Pakistan

وزارت آئی ٹی نے بیپ پاکستان کے نام سے خصوصی و محفوظ ایپلی کیشن تیار کرلی ہے. تمام سرکاری افسران و ملازمین اس ایپلی کیشن کے استعمال کے پابند ہوں گے. ایپلی کیشن پر ان ہاؤس آزمائش ہورہی ہے چند ماہ آزمائش کے بعد اسے لانچ کردیا جائے گا. (وفاقی وزیر آئی ٹی امین الحق) pic.twitter.com/8LTagwX5So

— Ministry of IT & Telecom (@MoitOfficial) July 19, 2021
Meanwhile, the Ministry of IT and Telecom on Friday also announced that they have finished 60 percent development work of Pakistan's messaging application. According to the media reports, Beep will reportedly be used by the Prime Minister, cabinet members, and those serving in sensitive positions. The mobile application will appear as WhatsApp; however, its interface will be outlined preserving the view of the security and cyber-attacks.
Read more: IT Ministry approves 5G & IoT project worth Rs 651.771 million
It is pertinent to state here that our neighboring country, India been monitoring a phone which was earlier in Prime Minister Imran Khan's use by an Israeli firm's spyware, as revealed by a global investigation, invoking concerns of widespread privacy and rights abuses. According to reports, India attempted to tap the Federal Cabinet members' calls and messages using the spyware, prompting Pakistan to develop new software for its federal ministers.
Source: ARY News