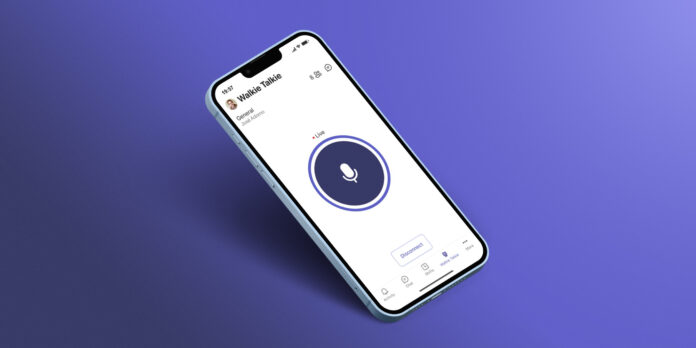 Tech giant, Microsoft is launching its Walkie Talkie feature of Microsoft Teams generally to all users of its communications app today, including iOS devices. Walkie Talkie feature allows Microsoft Teams users to turn smartphones or tablets into a walkie-talkie that operates over cellular data or Wi-FI. It was originally declared two years ago and has been in preview until now.
Microsoft Pitches the New Walkie Talkie Feature to Frontline Workers
Furthermore, Microsoft has mainly pitched the latest feature at frontline workers, employees who are customer-facing, and run day-to-day procedures inside organizations. The software developer is even teaming up with Zebra Technologies to add a reserved push-to-talk button on a range of Zebra mobile devices. These devices are employed widely by frontline workers, the workers that have assisted steer the world through the ongoing pandemic.
Moreover, features similar to Microsoft Teams' Walkie Talkie are still rare in communications apps. WhatsApp allows you to record snippets of audio that can be sent and received, and Slack rolled out its Discord-like Huddles feature last year to allow people to drop in and out of calls effortlessly. Apple did roll out its own walkie-talkie feature on the Apple Watch in 2018, employing push-to-talk over a FaceTime Audio call.
The Latest Feature is Coming to Zebra Devices, iOS, and Android
As announced in a blog post, this latest Walkie Talkie feature is available in a wide spectrum of Zebra mobile devices so frontline workers can enjoy "clear, instant, and secure communication at their fingertips," but, not only that, iOS and Android devices are also getting this latest Microsoft feature.
"As the frontline faces continuous constraints from labor shortages and supply chain disruptions, they want technology that saves them time, helps them communicate more seamlessly and maximizes their efficiency when completing repetitive tasks," Microsoft writes in the blog post.
Read more: Microsoft is Finally Ending the Legacy of Control Panel in Windows 11
Source: The Verge