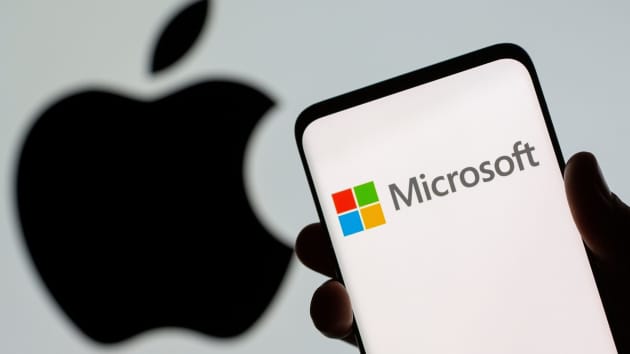 In the recent news, tech giant, Microsoft surpassed Apple in market cap on Friday, making it the world's most valuable public company after Apple missed profits expectations on Thursday.
World's Most Valuable Public Company, Microsoft Has a Market Cap of $2.49 Trillion  
Now, the world's most valuable public company, Microsoft, previously had a market cap of almost $2.49 trillion at market close, while Apple's stood at about $2.46 trillion. Apple announced on Thursday that revenue missed Wall Street expectations in the firm's fiscal fourth quarter, a consequence of supply chain limitations. CEO Tim Cook stated that the revenue shortfall is valued at $6 billion, but he expects worse supply chain problems in the December quarter. 
Read more: Apple Generates an Impressive Revenue of $83.4 Billion in Q4 FY 2021
Trades of iPhones at the company were up 47% year over year but also fell short of analyst expectations. The corporation's fourth-quarter only covered a few days of iPhone 13 sales. Furthermore, the world's most valuable public company, Microsoft beat revenue expectations in its fiscal first quarter, which rose about 22% year over year. 
That was the most accelerated growth since 2018, according to the reports. Apple was the first company to reach a $1 trillion and $2 trillion market cap. It became the world's most valuable public company when it exceeded state oil giant Saudi Aramco in market cap last year.
This is Not the First Time Microsoft Surpassed Apple
In addition to this, Microsoft last excelled Apple in market cap in 2020 as the coronavirus pandemic wreaked havoc on supply chains. It first closed above a $2 trillion market cap in June after reporting the first major update to Windows in more than five years. At market close, Microsoft's stock was up more than 48% year to date, while Apple's had increased almost 13%.
Source: The Verge